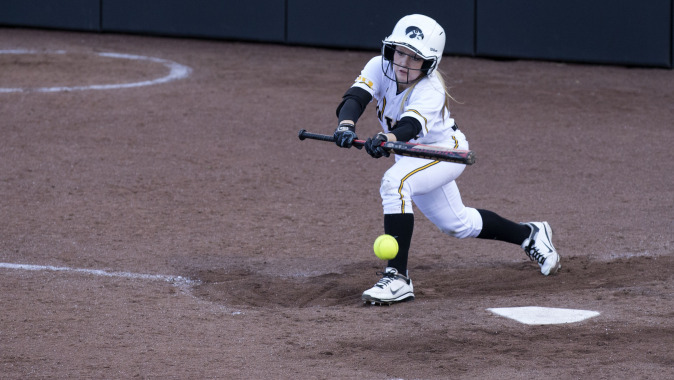 March 15, 2015
Box Score

NORMAN, Okla. — The University of Iowa softball team fell to East Carolina, 3-2, in eight innings Saturday morning in University of Oklahoma Tournament action. The Hawkeyes drop to 8-17 on the season, while the Pirates improve to 8-18.
"Unfortunately we were just kind of flat today," said head coach Marla Looper. "We talked about bringing the energy and keeping it consistent because that's one thing that we can control. I don't think we did a good job of that until the very end when we had a sense of urgency. We should have that from the first pitch."
The Hawkeyes reached the scoreboard first, stealing a run in the bottom of the third. Sophomore Claire Fritsch was awarded first base after taking a pitch to the leg. Freshman Cheyenne Pratt followed with an infield single, and Fritsch moved to third on a throwing error by the Pirate first baseman. Pratt and Fritsch took matters into their own hands from there. The duo combined for a double steal to give the Hawkeyes a 1-0 lead.
East Carolina tied it up in the bottom of the fourth. Pirate shortstop Casey Alcorn sent a solo home run over the left field wall to tie the game at 1-1.
After trading zeros with the Pirates for the next three innings the game went into extras. With the international tie breaker rule in effect, the Pirates started the eighth with a runner on second. A sacrifice bunt moved the runner to third, and a sacrifice fly to center plated the Pirate go-ahead run. East Carolina added another run on an infield single to take a 3-1 lead.
The Hawkeyes got a run back in the bottom of the eighth. Junior Erin Erickson started the inning on second, and Pratt moved her to third on an infield single. Redshirt sophomore Sammi Gyerman put the ball in play to plate Erickson, but the Iowa comeback rally came up just short.
Cheyenne Pratt led the Hawkeyes at the plate. The freshman went 2-for-4 with two infield singles. The Hawkeyes registered six hits in the contest and left seven runners on base.
Freshman Ashley Yoways (2-8) took the loss in the circle. She gave up two earned runs on three hits and eight walks.
"We have to come with energy and intensity," said Looper. "We have to stay in an attack mindset. When you don't have energy it's hard to be on the offensive. We played defensively the entire game, even when we were on offense we were playing defense. We have to attack them. We have to go make the game happen."
Iowa returns to action when it faces Oklahoma (20-3) this afternoon. First pitch is scheduled for 2:30 p.m. (CT).
East Carolina 3, Iowa 2
1
2
3
4
5
6
7
8
R
H
E
East Carolina (8-18)
0
0
0
1
0
0
0
2
3
3
1
Iowa (8-17)
0
0
1
0
0
0
0
1
2
6
0
Game Decision
W: Christian (ECU) 5-5
L: Yoways (IOWA) 2-8