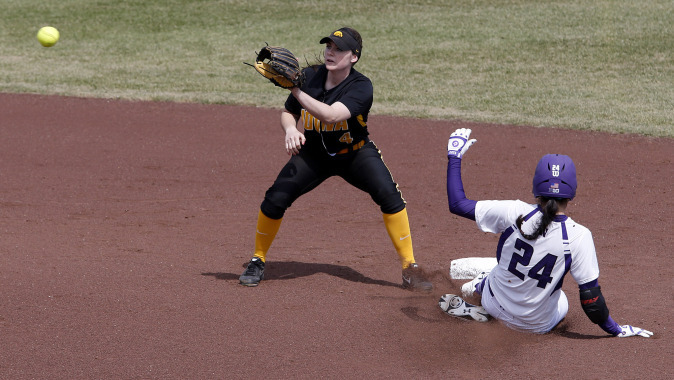 March 16, 2015
Box Score
Box Score

NORMAN, Okla. — The University of Iowa softball team fell to No. 6 Oklahoma, 9-0, in five innings Monday evening. With the loss the Hawkeyes drop to 8-19 on the season, while the Sooners move to 23-3.
Redshirt sophomore Shayla Starkenburg did not allow a Sooner hit before Oklahoma plated the first run of the game in the bottom of the third. Sooner center fielder Nicole Pendley drew the one-out walk before pitcher Shelby Pendley sent a single to center to give Oklahoma a 1-0 lead.
"Shayla [Starkenburg] came out with a great game plan and she held them scoreless and hitless until the third inning," said head coach Marla Looper. "She forced them to hit ground balls and pop flies. Unfortunately we gave them some opportunities late and they capitalized on that."
The Oklahoma bats exploded in the bottom of the fourth. The Sooners plated eight runs on five hits and an error to take a 9-0 lead.
"They are too good of a ball club to give extra outs to," said Looper. "We gave them extra outs and they took advantage of it. That's a sign of a quality ball club."
Iowa's best chance to score came in the top of the third. Freshman Sarah Kurtz sent her first hit of the game into center field. Sophomore Claire Fritsch and freshman Cheyenne Pratt followed with back-to-back walks to load the bases with two outs, but the Hawkeyes could not convert.
"We were in that game and we had opportunities early," said Looper. "We had the momentum and we kept it for a while, but unfortunately we lost it and couldn't get it back."
Kurtz led the Hawkeyes at the plate. The Herndon, Virginia, native went 2-for-2 with a single and a double.
"Offensively we started to make some adjustments," said Looper. "We put the ball in play a lot and they made some great catches early on. The top to the middle of our lineup is doing a really good job, and we have to pick that up all the way through."
Starkenburg (6-11) took the loss in the circle. The redshirt sophomore allowed nine earned runs on six hits and five walks.
"Whether we stand a shot of getting the ball or not, we have to get dirty," said Looper. "We have to save runs by keeping the ball on the infield, we have to play catch, and our pitchers have to continue to find the zone and give ourselves opportunities. If we control the things that are within our control then we give ourselves a shot to win."
Iowa returns to action tomorrow when it travels to Stillwater, Oklahoma, for a contest with Oklahoma State. First pitch is set for 2 p.m. (CT).
Oklahoma 9 , Iowa 0
1
2
3
4
5
R
H
E
Iowa (8-19)
0
0
0
0
0
0
3
1
Oklahoma (23-3)
0
0
1
8
X
9
6
0
Game Decision
W: Pendley (OKLA) 7-1
L: Starkenburg (IOWA) 6-11