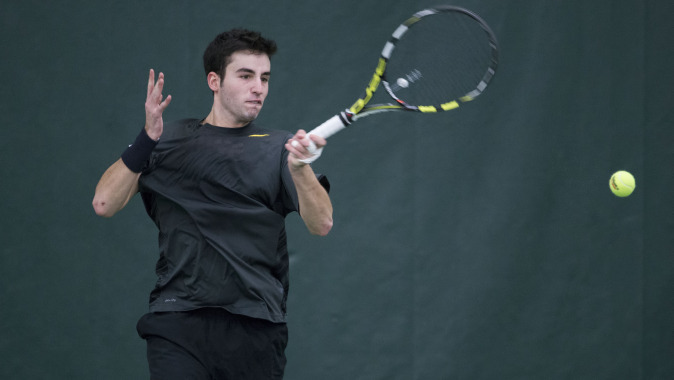 March 20, 2015
MINNEAPOLIS, Minnesota — The University of Iowa men's tennis team (8-4) opened Big Ten competition Friday night at the Baseline Tennis Center in Minneapolis. The No. 45 Hawkeyes looked to bounce back from their loss to San Diego State, but fell to No. 22 Minnesota, 7-0.
Iowa's No. 1 doubles duo of Matt Hagan and Dominic Patrick, ranked 74th nationally, squared off against Minnesota's No. 1's Mathieu Froment and Jack Hamburg, ranked 66th nationally. Froment/Hamburg were able to gain the upper hand on the Hagan/Patrick winning 8-3. Stieg Martens and Josh Silverstein brought the Hawkeyes back with a win over No. 80 Leandro Toledo and Felix Corwin at No. 2 doubles. Minnesota went on to take the doubles point as Eric Freuh and Matic Spec defeated Lefteris Theodorou and Jake Jacoby, 8-4.
In singles, at the number one position it was a battle of ranked opponents as No. 104 Hagan faced No. 25 Toledo. Toledo went on to take the match in straight sets, 6-4, 6-2. Patrick fell to Ruben Webber in straight sets, 6-4, 6-2. Looking to get a point back, Theodorou faced Hamburg at the number three position. Hamburg registered the win 6-1, 6-2.
At No. 4 singles, Martens fell in straight sets. Silverstein earned a first set victory over Corwin, 6-3 before falling in the second 2-6. Tied at a set a piece the match went into a tiebreak, Corwin tallied the win for Minnesota with a 1-0 third set victory over the freshman. At No. 6 singles, Jacoby was outlasted by Froment 6-2, 6-4.
Iowa returns to the courts Sunday for its Big Ten home opener at the Hawkeye Tennis and Recreation Complex against Wisconsin at 2 p.m. (CT). The UI tennis program will honor former head coach Steve Houghton for "Coach Houghton Day", admission is free to the public.
No. 22 Minnesota 7, No. 45 Iowa 0
Singles
1. No. 25 Leandro Toledo (MINN) def. No. 104 Matt Hagan (UI): 6-4, 6-2
2. Ruben Webber (MINN) def. Dominic Patrick (UI): 6-4, 6-2
3. Jack Hamburg (MINN) def. Lefteris Theodorou (UI): 6-1, 6-2
4. Matic Spec (MINN) def. Stieg Martens (UI): 6-1, 6-2
5. Felix Corwin (MINN) def. Josh Silverstein (UI): 6-3, 2-6, 1-0
6. Mathieu Froment (MINN) def. Jake Jacoby (UI): 6-2, 6-4
Order of finish: 4,3,1,6,2,5
Doubles
1. No. 66 Froment/Hamburg (MINN) def. No. 74 Hagan/Patrick (UI): 8-3
2. Martens/Silverstein (UI) def. No. 80 Toledo/Corwin (MINN): 8-3
3. Freuh/Spec (MINN) def. Theodorou/Jacoby (UI): 8-4
Order of finish: 1,2,3