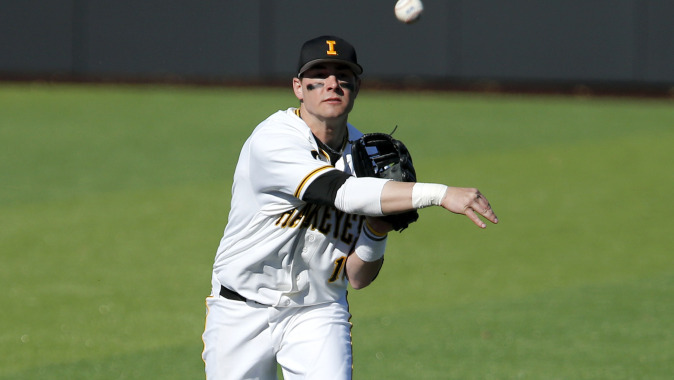 March 20, 2015
Editor's Note: The following first appeared in the University of Iowa's Hawk Talk Daily, an e-newsletter that offers a daily look at the Iowa Hawkeyes, delivered free each morning to thousands of fans of the Hawkeyes worldwide. To receive daily news from the Iowa Hawkeyes, sign up HERE.
By JAMES ALLAN
hawkeyesports.com
IOWA CITY, Iowa — Heading into Friday's series opener at Big 12 Conference foe Kansas, the University of Iowa baseball team looks to build on its momentum from its series in Houston.
The Hawkeyes battled through their first adversity of the season — a stretch where the team lost 3-of-4 games — to earn a series split at Houston Baptist. After dropping the first two games, 7-1 and 5-1, Iowa rebounded with a pair of 7-2 victories to improve their record to 12-4 heading into its final non-league series.
"We showed a lot of character," said UI head coach Rick Heller. "We were sluggish in game one, were flat, and didn't play well in any facet of the game. We bounced back in game two with good energy, but ran into a pitcher that threw well, and we just got beat.
"It was important to have a day where we had a great effort from start to finish and didn't get the win, but to come out and give the same effort in game three was something that made me very happy."
UI junior Joel Booker believes the Houston Baptist weekend was an eye-opener, and one the Hawkeyes can learn from.
"It showed we're not invincible," said Booker. "We have to show up every game if we want to keep winning. It's not a given that we're going to just show up and win, we have to complete every single day in order to be successful."
Next up is a three-game series in Lawrence against a Jayhawk team that is better than their 8-12 record indicates.
Kansas has played a loaded schedule, including a three-game series at No. 2 LSU to open the season and seven contests against Pac-12 foes Washington, Utah, Washington State, Oregon State, and a three-game set at Utah. From March 13-15, the Jayhawks took 2-of-3 games from Michigan.
"We know how good Michigan is, and to beat them twice and play a one-run game in the contest Michigan won, we know we're playing a good team," said Heller. "They're a very good offensive team and their pitching is better than their statistics show because of that tough schedule."
The Hawkeyes are familiar with the Jayhawks' personnel, having swept a two-game series last season in Iowa City over a Kansas squad that ended up in NCAA Regionals. Iowa won the first game, 5-3, before completing the sweep with a 12-7 victory in game two.
"That was a very good team (last year) that lost some of its frontline pitching, but it's still a team we are going to have to play our best to win," said Heller. "We're going to have to pitch well, better than we did against Houston Baptist in the first two games to have a chance to win.
"They're an older group offensively that is putting up some big numbers. They're tough outs, and we're going to have to play well."
All three games of the series will be available on ESPN3 or the WatchESPN app with Steven Davis and Scott Heitshusen on the call. Friday's series opener begins at 6 p.m. (CT) followed by 2 p.m. and 1 p.m. starts Saturday and Sunday.