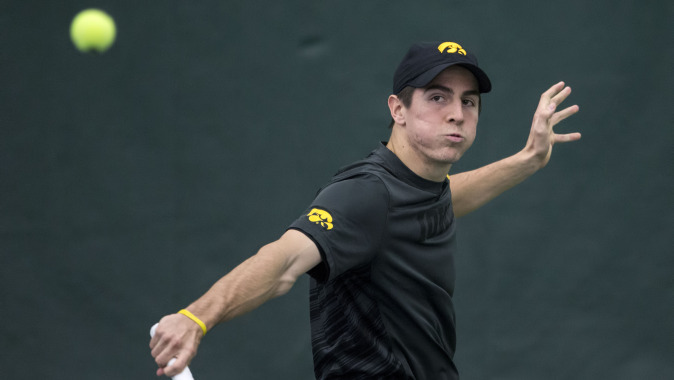 March 22, 2015
IOWA CITY, Iowa — The No. 45 University of Iowa men's tennis team (9-4) hosted Wisconsin Sunday afternoon for its Big Ten home opener.
The Hawkeyes earned a 4-3 win over the Badgers, snapping a two-match losing skid. Before the singles portion of the match, former UI head coach Steve Houghton was honored for his accolades as both a coach and player for the UI men's tennis program.
"The honoring of Coach Houghton was awesome. We had a brunch before the match with former players and our guys got to meet them and hear stories. It was important. He has meant a ton to this program and it was nice to be able to honor him here and get a win," said UI head coach Ross Wilson.
With the Hawkeyes leading 3-2, Dominic Patrick stepped in at No. 2 singles with a chance to clinch the match. Patrick was outlasted in the first set, 7-5, by Jakhongir Jalalov. The junior then evened the set, 1-1, with a 6-3 win in the second. The match came down to the tiebreak, and Patrick earned a third set win, 6-1, to clinch the match for Iowa, 4-2.
"Today it was tough conditions. We talked about competing and controlling what we wanted to control. The match didn't start off well in doubles but we talked about it after that and the team came out ready to play in singles. Lefteris and Josh came out and got quick wins, we just battled. Mental toughness and being competitive today is what got us through," added Wilson.
At No. 1 doubles, Hawkeye duo Matt Hagan and Patrick, ranked 74th nationally, ran into problems against Jose Carranza and Josef Dodridge as the Wisconsin team topped Hagan/Patrick, 8-2. Lefteris Theodorou and Jake Jacoby looked to get a point back for the Hawkeyes but were defeated by Tomas Pitra and Lamar Remy, 8-4. Leading 6-5, Stieg Martens and Josh Silverstein's match was abandoned due to Wisconsin registering the doubles point.
In singles, Theodorou leveled the match at 1-1 with a straight set victory over Remy 6-2, 6-2.
Silverstein then earned a straight-set win over Pitra 6-2, 6-0 at No. 4 singles giving Iowa a 2-1 lead. Jacoby kept the winning trend going for the Hawkeyes, delivering a win in come-from-behind fashion. After dropping the first set 5-7 to Michael Sinha, the freshman came storming back with wins in the second and third, 6-2, 6-0.
Filling in at the No. 6 position, senior Andres Estensorro was beaten in straight sets 6-2, 7-5. At No. 1 singles, Hagan was defeated in a close three-set match 6-3, 5-7, 6-4.
Next for Iowa is a home contest with Big Ten rival Michigan at the Hawkeye Tennis and Recreation Complex March 27 at 6 p.m. (CT). Admission is free to the public.
No.45 Iowa 4, Wisconsin 3
Singles
1. Josef Dodridge (UW) def. #104 Matt Hagan (UI): 6-3, 5-7, 6-4
2. Dominic Patrick (UI) def. Jakhongir Jalalov (UW): 5-7, 6-3, 6-1
3. Lefteris Theodorou (UI) def. Lamar Remy (UW): 6-2, 6-2
4. Josh Silverstein (UI) def. Tomas Pitra (UW): 6-2, 6-0
5. Jake Jacoby (UI) def. Michael Sinha (UW): 5-7, 6-2, 6-0
6. Jose Carranza (UW) def. Andres Estenssoro (UI): 6-2, 7-5
Order of finish: 3,4,6,5,2,1
Doubles
1. Carranza/Dodridge (UW) def. #74 Hagan/Patrick (UI): 8-2
2. Martens/Silverstein (UI) v.s. Jalaov/Kokorev (UW): 6-5 abandoned
3. Pitra/Remy (UW) def. Theodorou/Jacoby (UI): 8-4
Order of Finish: 1,3