Photo Gallery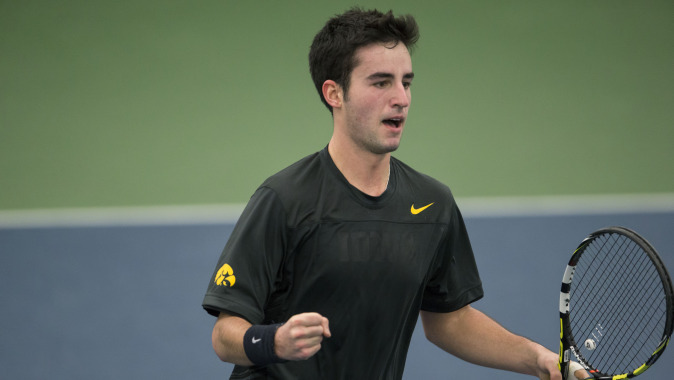 March 27, 2015
IOWA CITY, Iowa — In a back and forth affair, the No. 54 University of Iowa men's tennis team (10-4) won its second straight conference match Friday night with a 4-3 decision over Michigan at the Hawkeye Tennis Recreation Center.
With the match deadlocked at 3-3, Josh Silverstein put on a match clinching performance at the No. 4 singles spot. Michigan's Alex Knight took the first set 7-5 over Silverstein. Dropping the first set did not phase the freshman as he delivered a 6-3 victory in the second set and a 6-3 triumph in the third to clinch the match for the Hawkeyes.
"This is why our players come to play at Iowa it's what college tennis is all about. This was an unbelievable match. Anytime you play Michigan it is a big moment. Today was our ninth win against Michigan in the history of the program and it's a big one. I know they were not ranked coming in but we beat a very good team,"said UI head coach Ross Wilson.
"You can't say enough about Josh, he was our first big recruit and he came here wanting to help turn this program around and wanting to make this a special place. He's been on the court in two of our biggest matches to clinch it, you couldn't have written it any other way. He's one of our horses and loves Iowa he plays as hard as he can for us," added Wilson.
Wilson made the decision to change his team doubles line-up inserting Stieg Martens and Lefteris Theodorou at the No. 1 doubles position. The Hawkeye freshmen faced Michigan's 67th ranked doubles duo of Alex Petrone and Michael Zhu. Petrone/Zhu earned the win, 8-3.
Dominic Patrick and Silverstein paired up at the No. 3 spot and delivered for the home squad, defeating Carter Lin/Tyler Gardiner, 8-4. The changes made to the doubles line-up saw Matt Hagan and Jake Jacoby team up at the No. 2 position, where they faced Knight and Runhao Hua. Knight/Hua made it back-to-back wins for the Wolverines giving them the doubles point.
With the Hawkeyes down 1-0, No. 96 Hagan gave Iowa its first team point on the evening, registering a straight set sweep over Petrone 6-2, 6-2. Wilson elected to play Andres Estenssoro at No. 6 singles. Locked at 1-1 the senior looked to give Iowa the advantage, but fell in straight sets 6-1, 6-1 to Lin.
"Matt stepping up and getting off the court quick was huge for us after losing the doubles point. Today just shows how much we've improved as a team and how hard we fight," said Wilson.
Jacoby evened the match with a come-from-behind effort at the No. 5 spot. After dropping the first set 2-6, Jacoby fired back winning sets two (6-3) and three (6-4) over Michigan's Crocker. In a close three-set match, Zhu upended Patrick, 6-0, 3-6, 5-7. Theodorou won sets two (6-4) and three (6-2) to notch his 10th singles victory of the spring season.
Next on the schedule for the Hawkeyes is another home match against Michigan State on Sunday. Competition is scheduled to begin at 11 a.m. (CT) at the Hawkeye Tennis and Recreation Complex. Admission is free to the public.
No. 54 Iowa 4, Michigan 3
Singles
1. No. 96 Matt Hagan (UI) def. Alex Petrone (UM): 6-2, 6-2
2. Michael Zhu (UM) def. Dominic Patrick (UI): 6-0, 3-6, 5-7
3. Lefteris Theodorou (UI) def. Runhao Hua (UM): 4-6, 6-4, 6-2
4. Josh Silverstein (UI) def. Alex Knight (UM): 5-7, 6-3, 6-3
5. Jake Jacoby (UI) def. Davis Crocker (UM): 2-6, 6-3, 6-4
6. Carter Lin (UM) def. Andres Estenssoro (UI): 6-1, 6-1
Order of Finish: 1,6,5,2,3,4
Doubles
1. No. 67 Petrone/Zhu (UM) def. Theodorou/Martens (UI): 8-3
2. Knight/Hua (UM) def. Hagan/Jacoby (UI): 8-2
3. Patrick/Silverstein (UI) def. Lin/Gardiner (UM): 8-4
Order of Finish: 3,2,1