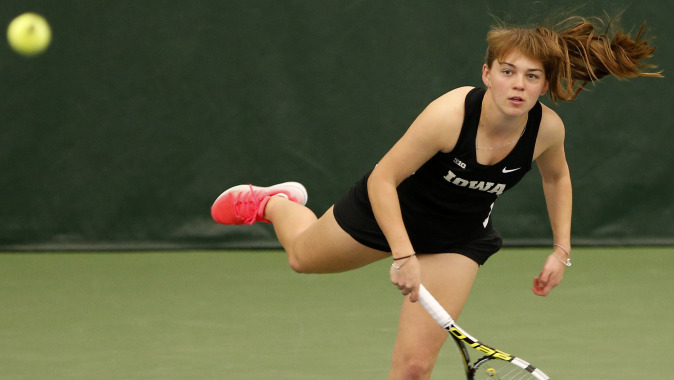 March 29, 2015
Photo Gallery

IOWA CITY, Iowa — The University of Iowa women's tennis team gathered its second conference win of the season on Sunday evening, topping Big Ten opponent Nebraska, 4-3. The Hawkeyes advance to 2-3 in conference play and 8-7 overall.
"I'm really proud of the team, effort and win today," UI head coach Katie Dougherty said. "Our freshmen stepped up huge for us and made a big impact."
The B1G matchup was a battle from the beginning as Iowa split a pair of matches to start doubles play. Senior Katie Zordani and freshman Zoe Douglas struggled at the No. 2 position, falling to Nebraska's Maggy Lehmicke and Lisa Andersson, 8-4. Morven McCulloch and Annette Dohanics kept the Hawkeyes alive at the No. 1 slot, posting an 8-4 victory over Mary Hanna and Izabella Zgierska.
It all came down to the No. 3 doubles position, as Anastasia Reimchen and Aimee Tarun looked to close out Huskers Katerina Matysova and Mackenna Maddox. Iowa clinched the point as the freshman/sophomore duo posted an 8-6 victory, giving the Hawkeyes the 1-0 advantage going into singles play.
"The doubles point was critical and to have a brand new team at No. 3 step up and win the deciding match shows how adaptable and how much they trust each other," Dougherty noted of the doubles success.
Iowa continued to build momentum into singles play as McCulloch shut down Nebraska's Maggy Lehmicke, 6-4, 6-2 at the No. 1 position. Reimchen gave the Hawkeyes another push in the right direction at the No. 2 singles slot, recording a 6-4, 6-4 victory over Izabella Zgierska.
The Huskers were not going to go down easily, collecting victories at the No. 3, No. 4, and No. 5 singles positions. Dohanics forced a third set against Nebraska's Mary Hanna at No. 3, but was ultimately defeated 6-2, 2-6, 6-2. Zordani and Silver were overcome in straight sets, 7-5, 6-3, and 6-4, 6-4, respectively.
Freshman Douglas sealed the deal for the Hawkeyes, as she recorded the fourth team point and a 6-4, 6-4 win over the Huskers' Mackenna Maddox. This was Douglas' fourth appearance in the lineup this season and the victory improves her overall record to 4-1.
The Hawkeyes return to action on Saturday, April 4 as they travel to Minneapolis, Minnesota to take on the Golden Gophers. Iowa will meet Minnesota at 11 a.m. (CT) at the Baseline Tennis Center.
Iowa 4, Nebraska 3 Singles Results
1. Morven McCulloch (Iowa) def. Maggy Lehmicke (Nebraska), 6-4, 6-2
2. Anastasia Reimchen (Iowa) def. Izabella Zgierska (Nebraska), 6-4, 6-4
3. Mary Hanna (Nebraska) def. Annette Dohanics (Iowa), 6-2, 2-6, 6-2
4. Katerina Matysova (Nebraska) def. Katie Zordani (Iowa), 7-5, 6-3
5. Lisa Andersson (Nebraska) def. Ellen Silver (Iowa), 6-4, 6-4
6. Zoe Douglas (Iowa) def. Mackenna Maddox (Nebraska), 6-4, 6-4
Order of finish (1, 2, 4, 6, 3, 5)
Doubles Results
1. Dohanics/McCulloch (Iowa) def. Hanna/Zgierska (Nebraska), 8-4
2. Lehmicke/Andersson (Nebraska) def. Zordani/Douglas (Iowa), 8-4
3. Reimchen/Tarun (Iowa) def. Matysova/Maddox (Nebraska), 8-6
Order of finish (2, 1, 3)