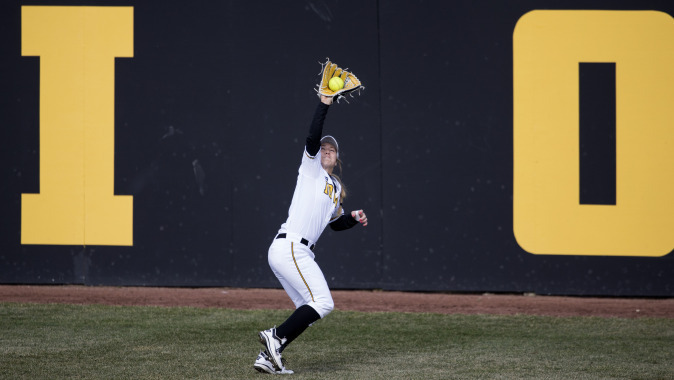 March 31, 2015
Notes vs Drake/Western Illinois

PLAY BALL
The University of Iowa softball team travels to Des Moines, Iowa, to take on Drake on Wednesday before welcoming Western Illinois to Bob Pearl Field on Thursday. Wednesday's game is set to begin at 5:30 p.m. (CT) at Ron Buel Field, while Thursday's action will begin at 6:30 p.m.
FOLLOW ALONG
Fans can follow the action with Gametracker (live stats). Audio will also be available on Hawkeye All-Access. Jon Swisher will call the action on Wednesday, while Rob Brooks will call Thursday's contest. Links can be accessed on the softball schedule page at hawkeyesports.com. To receive more frequent game updates, follow @IowaSoftball on Twitter and "like" our official page on Facebook, facebook.com/iowahawkeyessoftball.
WATCH LIVE
Thursday's contest against Western Illinois can be seen live online on BTN Plus, which is available at btn2go.com.
SEASON TICKETS
Season tickets are now available for the 2015 Iowa softball regular season. Prices are $20 for reserved season tickets, $15 for general admission (public), and $12 for general admission (faculty). Single game tickets are also available for $5. Youth — ages 18 or younger — can attend Hawkeye softball games for free.
To purchase season tickets, visit the UI Athletics Ticket Office inside Carver-Hawkeye Arena, call 1-800-IA-HAWKS, or go to hawkeyesports.com.
AWARENESS GAME
Iowa will host its Third Annual Awareness Game on Saturday, April 4. Representatives from the Hope Lodge, VA Hospital, Big Brothers Big Sisters, UI Reach, Grant Wood Area Education Agency, and Ronald McDonald House will be in attendance and taking various donations. Fans that bring an item to donate will receive free admission to the game.
TAKING ON THE BEST
Nine of Iowa's 2015 opponents are ranked in the most recent release of the USA Today/NFCA Division I Top-25 Poll (March 24). They include: Oregon (2), Florida (3), Michigan (4), Oklahoma (6), Louisiana Lafayette (9), Minnesota (12), UCF (18), Missouri (20), and North Dakota State (RV).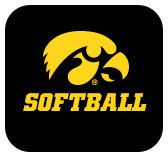 UPSET IN ANN ARBOR
The Hawkeyes handed the No. 4 Wolverines their fifth loss of the season with a come-from-behind victory in Ann Arbor, Michigan, on March 29. Down four runs in the top of the sixth, Iowa scored three runs off of a pair of home runs by redshirt junior Holly Hoffman and freshman Allie Wood. The Hawkeyes continued their rally in the seventh when sophomore Kaitlyn Mullarkey capitalized on an RBI opportunity with a double down the right line to give Iowa a 5-4 lead. The Hawkeyes added an insurance run on a RBI ground out from Wood to take a 6-4 lead into the bottom of the seventh. After a Wolverine reached on a single to start the seventh, Iowa used a 4-6-3 double play to silence the scoring chance and ultimately secure the upset victory.
STARKENBURG TROUBLES NO. 4 WOLVERINES
Redshirt sophomore pitcher Shayla Starkenburg limited the Wolverines to just four hits in the first game of a doubleheader on March 28. Only three other teams have held Michigan to four hits or less this season. They include: then-ranked No. 1 Florida (2 hits), Kent State (3 hits) and Illinois State (4 hits). The Ankeny, Iowa, native registered a complete-game upset win on March 29. After a rocky first inning Starkenburg settled in and allowed just one run in her final six innings of work and did not allow a Wolverine hit in four of her final six innings.
HOFFMAN, WOOD PROVIDE SPARK
Redshirt junior Holly Hoffman and freshman Allie Wood went yard in Iowa's 6-4 come-from-behind triumph against No. 4 Michigan on March 29. Hoffman sent her second home run of the season and fifth of her career over the center field wall. One batter later, Wood delivered a solo shot — the fourth home run of her career — to left to pull the Hawkeyes within a run of the Wolverines.
DOUBLE PLAYS PIVOTAL IN IOWA VICTORY
Iowa turned two double plays in its 6-4 win at No. 4 Michigan on March 29. The Hawkeyed turned two to end the second inning before swinging a 4-6-3 double play in the bottom of the seventh to clear the bases and ultimately secure the upset victory. Iowa currently leads the Big Ten and ranks 12th nationally in fielding double plays. The Hawkeyes have turned two 20 times this season. They have recorded two double plays in a game five times: No. 6 Louisiana-Lafayette (Feb. 20), No. 6 Oklahoma (March 15), Tulsa (March 18), Nebraska (March 25), and No. 4 Michigan (March 29).
TOUGH OUT
Senior Megan Blank has just seven strikeouts in 105 at bats this season. Blank currently leads the team in batting average (.429), slugging percentage (.648), and on base percentage (.429).
.300 CLUB
Seven Hawkeyes are hitting .300+ in Big Ten Conference play. Senior Megan Blank leads the team hitting .450 and freshman Angela Schmiederer (.400) joins her in the 400s. Redshirt junior Holly Hoffman (.333), redshirt Sammi Gyerman (.321), sophomore Claire Fritsch (.318), junior Whitney Repole (.304), and freshman Allie Wood (.304) are all hitting .300+ in eight conference games this season.
BLANK RANKS
? Career runs scored: Tied for 11th all-time (113)
? Career hits: 7th all-time (222)
? Career doubles: School record holder (54)
? Career triples: tied for 10th all-time (10), 1 from tying for 7th (11)
? Career HR: Tied for 6th all-time (22)
? Career RBI: 6th all-time (133)
? Career Average: 2nd all-time (.404), Lea Twigg (1996-97) is the record holder with a .409 batting average
? Doubles in a season: 17 in 2012, tied for 4th all-time; 15 in 2013, tied for 9th all-time
? Triples in a season: 5 in 2012, tied for 8th all-time
? HR in a season: 11 in 2013, 3rd all-time
? RBI in a season: 59 in 2013, 2nd all-time
? Average in a season: .437 in 2013 (record holder)
BLANK IN THE B1G
Megan Blank is currently ranked among the top five in the conference in three different categories. The senior is tied for second in the Big Ten hits (45), tied for third in doubles (11) and fourth in batting average (.429).
DOUBLE TROUBLE
The Hawkeyes are tied for third in the Big Ten in doubles. Iowa has recorded 55 doubles on the season. Senior Megan Blank, the career doubles school record holder, leads the team with 11, while redshirt sophomore Sammi Gyerman has seven.
WITH RUNNERS ON
Senior Megan Blank is hitting .459 with runners on base and .394 with runners in scoring position. The Culver City, California, native has a .394 clip with runners and scoring positions and currently leads the team in batting average (.429), hits (45), doubles (11), total bases (.648), and RBIs (20).
B1G HITS
Iowa is ranked 10th in the Big Ten in hits. Iowa has accumulated 241 hits in 37 contests this season. Senior Megan Blank leads the team with 45 hits, while redshirt sophomore Sammi Gyerman has 35.
STARKENBURG STRIKEOUTS
Redshirt sophomore Shayla Starkenburg ranks sixth in the Big Ten in batters struck out (120) and fourth in batters struck out looking (33). Starkenburg has fanned a career high nine batters twice this season (Florida A&M on March 1; East Carolina on March 14. She recorded her first career no-hitter against Southern Utah on Feb. 7. The Ankeny, Iowa, native has 110 strikeouts in 128.0 innings this season.
SCOUTING DRAKE
Drake is 16-12 on the season and 7-2 in the Missouri Valley Conference. The Bulldogs and Hawkeyes met in the 2015 season opener at the UNI Dome Tournament on Feb. 6. The Bulldogs registered the 8-0 run-rule win in six innings. Iowa holds a 35-12 advantage in the all-time series.
SCOUTING WESTERN ILLINOIS
Western Illinois is 11-12 overall and 1-4 in Summit League play. The Hawkeyes and Leathernecks last met on Feb. 24, 2013 where Iowa recorded a 12-4 run-rule victory in six innings. The Hawkeyes hold a 32-14 advantage in the all-time series.
BLANK MAKES HISTORY
Senior Megan Blank recorded her 53rd career double against Nebraska on March 25. Blank is now in sole possession of the Iowa Softball career doubles record. The previous record of 52 was set by Kari Knopf in 1997.
PRACTICE FACILITY
The Hawkeyes have benefited from two new facilities in 2015 — the indoor Iowa Turf Facility, located at the Hawkeye Tennis and Recreation Complex, and the Jacobson Hitting Facility, located in football's former weight room. The HTRC Iowa Turf Facility has enabled the program to have consistency in team practices, while the Jacobson hitting cages have allowed student-athletes to take extra reps at any time.
MEET THE CAPTAINS
Sophomore walk-ons Kaitlyn Mullarkey and Kara Misel were voted 2015 captains by their teammates. Mullarkey stepped in last season when injuries created a spot in the field. She logged time in the outfield before joining the infield for the majority of the Big Ten season as Iowa's first baseman. Misel appeared primarily as a pinch runner in 2014.
HAWKEYE TRADITION
Iowa has made four Women's College World Series appearances (1995, 1996, 1997, 2001) and played in 16 NCAA Tournaments in school history. The 16 appearances are the second most in Big Ten history, and the four WCWS appearances equal the second most in conference history. The Hawkeyes have won four Big Ten Conference regular season championships (1989, 1997, 2000, 2003) and two Big Ten Tournament titles (2001, 2003). Iowa holds a 1261-777-5 (.619) record in 37 seasons.
ON DECK
Iowa returns to Big Ten Conference action with a three-game series against Illinois. The Hawkeyes and the Fighting Illini begin their series with a 6 p.m. (CT) contest Friday, continue with a 2 p.m. game Saturday, and conclude the weekend with a 1 p.m. contest on Sunday.