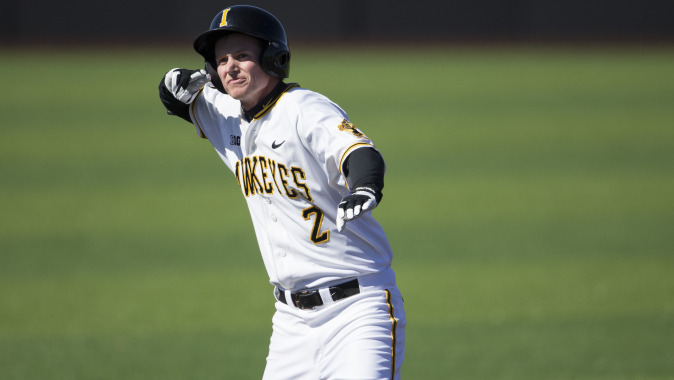 March 31, 2015
IOWA CITY, Iowa — University of Iowa senior Eric Toole has been selected as the Big Ten Player of the Week, it was announced Tuesday by the league office. The honor is the first of Toole's career.
The Council Bluffs, Iowa, native earned the distinction after hitting .500 (8-for-16) and posting a .529 on-base and .563 slugging percentage in leading the Hawkeyes to a 3-1 week. The outfielder scored four runs and had two RBIs and extended his hitting streak to a career-long 15 games and his reached base streak to 22-straight contests.
Toole opened the week with a three-hit, two-steal performance against Bradley before leading off the series against Indiana with a double and scoring Iowa's first run in an eventual 2-0 victory over No. 19 Indiana on March 27. The win was Iowa's first over a ranked opponent since 2012.
After finishing 1-for-2 with two runs in a 5-1 series-clinching win over the Hoosiers in game two, Toole closed out the week with a 3-for-5, two-RBI, one-run performance in a 10-6 victory in the series finale.
Iowa swept the 19th-ranked Hoosiers — the program's first sweep over a ranked opponent since 1990 — to start 3-0 in Big Ten Conference play for the first time since 1994. The Hawkeyes also debuted in the national rankings March 30, coming in at No. 24 by Collegiate Baseball.
Toole is leading the team and ranks seventh in the Big Ten with a .351 batting average. He has eight multi-hit games — tied for second most on the team — and has a team-leading 19 runs and 13 steals. The 13 swipes are the most in the league.
Toole is the second Hawkeye to earn Big Ten weekly recognition this season. Freshman Austin Guzzo was tabbed as the Big Ten Freshman of the Week on Feb. 16.
Iowa (17-6) returns to action this afternoon, hosting Grand View at 3 p.m. (CT) at Banks Field.