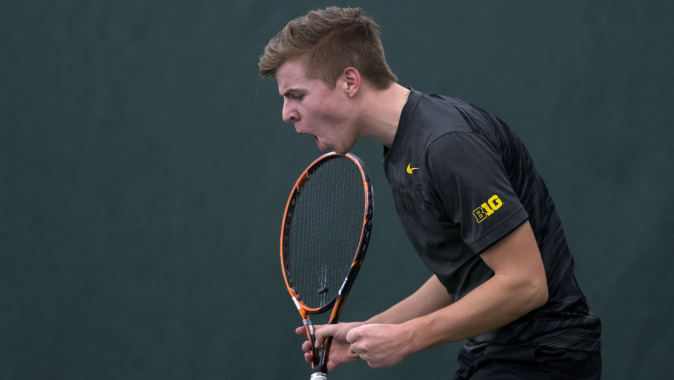 April 3, 2015
West Lafayette, Indiana — On the back of a great singles display, the 68th-ranked University of Iowa men's tennis team (11-5) got back on track from its loss to Michigan State Friday with a 4-1 sweep over Purdue this afternoon at the Schwartz Tennis Center.
Iowa got things rolling in the doubles portion of the match. At No. 2 doubles, Stieg Martens and Lefteris Theodorou looked to earn a win for the Hawkeyes but were beaten by Purdue's Diego Acosta and Ricky Medinilla 8-3. Dominic Patrick and Josh Silverstein earned an 8-3 decision over Lucas Dages and Arthur Dobradin to even doubles at 1-1. With the doubles point in the balance Matt Hagan and Jake Jacoby faced Mateus Silva and Renan Hanayama at the No. 2 position. Hagan/Jacoby routed Silva/Hanayama giving Iowa the early 1-0 lead.
In singles, Jacoby extended Iowa's lead defeating Matt Bouggy in straight sets 6-1, 6-0. Looking to push the Hawkeyes lead even further, No. 96 Hagan faced Acosta at the No. 1 spot. Hagan took care of business winning in straight sets and putting his team up 3-0.
Freshman Theodorou, who holds the best singles record for the team (12-3), fell to Silva 6-4, 6-2. With Iowa leading 3-1, Martens looked to put the match away. He squared off against Dages at the No. 5 position and produced, defeating Dages in straight set 6-4, 6-4.
After a first set victory, Patrick's match against Medinilla was abandoned due to Iowa winning the match. Silverstein's match with Dobradin was also abandoned.
Next for the Hawkeyes is a battle with No. 44 Indiana (12-8) at the IU Tennis Center Sunday at noon (CT).
No. 68 Iowa 4, Purdue 1
Singles
1. #96 Matt Hagan (UI) def. Diego Acosta (PUR) 7-5, 6-4
2. Dominic Patrick (UI) vs. Ricky Medinilla (PUR), 7-6 (10-8), 3-4 DNF
3. Mateus Silva (PUR) def. Lefteris Theodorou (UI) 6-4, 6-2
4. Josh Silverstein (UI) def. Arthur Dobradin (PUR) 7-6 (10-7), 4-4 DNF
5. Stieg Martens (UI) def. Lucas Dages (PUR) 6-4, 6-4
6. Jake Jacoby (UI) def. Matt Bouggy (PUR) 6-1, 6-0
Doubles
1. Acosta/Medinilla (PUR) def. Martens/Theodorou (UI) 8-3
2. Hagan/Jacoby (UI) def. Silva/Hanayama (PUR) 8-3
3. Patrick/Silverstein (UI) def. Dages/Dobradin (PUR) 8-5