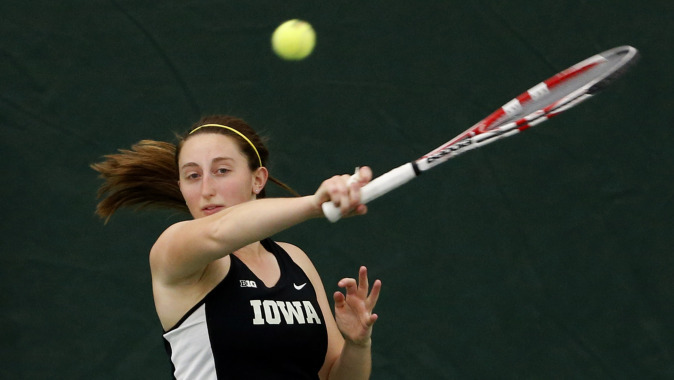 April 5, 2015
MADISON, Wisc. — The University of Iowa women's tennis team fell to Big Ten opponent Wisconsin, 4-3 on Sunday evening. The Hawkeyes went 0-2 for the weekend, dropping to 2-5 in conference play and 8-9 overall.
""We played a great doubles point and put ourselves in a good position today and came up short," said UI head coach Katie Dougherty. "The deciding match was what college tennis is all about and was a great battle and Nettie was doing everything she could out there to help us."
Iowa started the dual strong, collecting the doubles point with victories at the No. 1 and No. 2 slots. Junior Annette Dohanics and partner Morven McCulloch led off the line-up and posted an 8-1 win over Wisconsin's Lauren Chypyha and Kelsey Grambeau. The duo advances to 7-1 as a team and holds a 5-0 record against conference opponents.
At the No. 2 position, senior Katie Zordani and freshman Zoe Douglas clinched the point for Iowa as they defeated Ekaterina Stepanova and Sydney Rider, 8-7.
Iowa carried the doubles momentum into singles play as McCulloch took down Lauren Chypyha at the No. 1 singles slot, 6-4, 6-3. Following suit, Douglas collected a victory at the No. 5 position, overcoming Sydney Rider, 6-4, 6-2.
However, the Badgers would not be easily defeated, posting singles wins at the No. 2, No. 3, No. 4, and No. 6 positions, sealing the victory in favor of Wisconsin.
Reimchen, Zordani, and sophomore Aimee Tarun were defeated in straight sets, 6-4, 6-3, 6-1, 6-0, and 6-3, 6-2, respectively. This was Tarun's first appearance in the singles lineup this season.
The battle of the night took place between Dohanics and Wisconsin's Ekaterina Stepanova at the No. 3 slot. After falling 6-0 in the first set, Dohanics forced a third go around with a 7-5 second set victory. After a hard fought encounter, Stepanova came out on top with a 7-6 (7-4) third set triumph, simultaneously handing the win to the Badgers.
Iowa returns to action on Friday, April 10 as they host B1G opponent Ohio State. Competition is set to begin at 4 p.m. (CT) inside the Hawkeye Tennis and Recreation Complex.
Iowa 3, Wisconsin 4
Singles:
1. Morven McCulloch (IOWA) def. Lauren Chypyha (WIS) 6-4, 6-3
2. Maria Avgerinos (WIS) def. Anastasia Reimchen (IOWA) 6-4, 6-3
3. Ekaterina Stepanova (WIS) def. Annette Dohanics (IOWA) 6-0, 5-7, 7-6 (7-4)
4. Lauren Burich (WIS) def. Katie Zordani (IOWA) 6-1, 6-0
5. Zoe Douglas (IOWA) def. Sydney Rider (WIS) 6-4, 6-2
6. Kelsey Grambeau (WIS) def. Aimee Tarun (IOWA) 6-3, 6-2
Doubles:
1. Annette Dohanics/Morven McCulloch (IOWA) def. Lauren Chypyha/Kelsey Grambeau (WIS) 8-1
2. Katie Zordani/Zoe Douglas (IOWA) def. Ekaterina Stepanova/Sydney Rider (WIS) 8-7
3. Lauren Burich/Maria Avgerinos (WIS) def. Anastasia Reimchen/Aimee Tarun (IOWA) 8-5