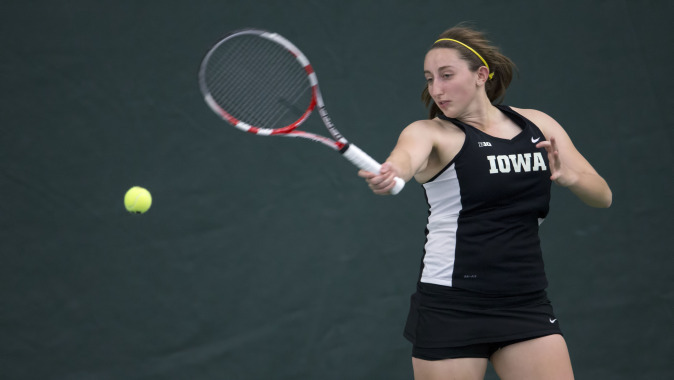 April 7, 2015
Ohio State, Penn State Release

THIS WEEK FOR THE HAWKEYES
The University of Iowa women's tennis team (8-9, 2-5) hosts No.18 Ohio State (15-4, 7-0) on Friday at 4 p.m. (CT) at the Hawkeye Tennis and Recreation Complex. On Sunday, the Hawkeyes maintain home court advantage against 64th-ranked Penn State (9-9, 5-2). Action begins at 11 a.m. inside the HTRC.
GOING AGAINST THE BUCKEYES
Iowa leads the all-time series against Ohio State, 23-20. Last season, the 34th-ranked Buckeyes collected a 6-1 victory over the Hawkeyes in Iowa City. Iowa's last triumph was 2013, posting a 6-1 win at home over then No. 70 Ohio State.
TAKING ON THE NITTANY LIONS
The Hawkeyes have a 25-4 advantage in the all-time series over Penn State. During the 2014 season, Iowa recorded a 6-1 victory over the Nittany Lions at home. Penn State's last win over the Hawkeyes was in 2013, when Iowa lost on the road to the then 30th-ranked Nittany Lions, 6-1.
A DOUBLES FORCE TO BE RECKONED WITH
Senior Morven McCulloch and junior Annette Dohanics are 7-1 as a doubles team this season. They have won five in a row, most recently defeating Wisconsin's Lauren Chypyha and Kelsey Grambeau, 8-1, at the No. 1 doubles position. The pair holds a 5-0 record against Big Ten opponents.
MO ON TOP
McCulloch is 2-1 at the top of the lineup since moving to No. 1 on March 29. Her lone loss was a three-set battle with Minnesota's Tereza Brichacova on April 4.
HONORING THE SENIORS
Iowa seniors Shelby Talcott, Katie Zordani, Ellen Silver and Morven McCulloch have a combined 31-25 singles record this season. Talcott and McCulloch are a combined 19-10 at the top of the lineup.
Sunday's match against Penn State is Senior Day for the Hawkeyes. The four upperclassmen will be recognized at the conclusion of the dual for their contribution and dedication to the Iowa women's tennis program.
TAKING DOWN RANKED OPPONENTS
Last season, the Hawkeyes beat three ranked opponents, the most since coach Dougherty's first season when Iowa overcame five ranked competitors. The most recent win was against No. 42 Illinois, 4-3, in Champaign, Illinois.
BECOME A FAN
Fans can follow the Iowa women's tennis team at facebook.com and via twitter @Iowa_Tennis. Live results from this weekend are available on the Iowa women's tennis schedule page at hawkeyesports.com.