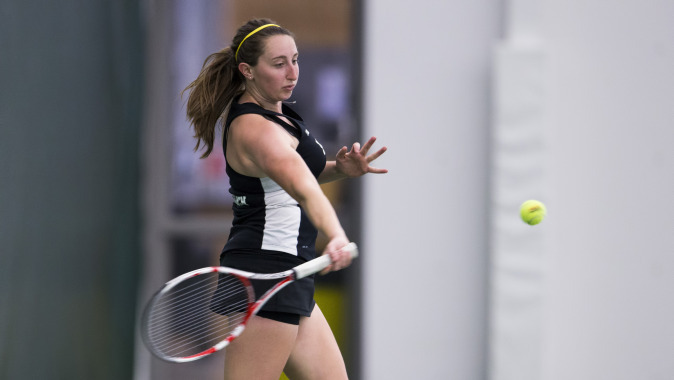 April 14, 2015
Northwestern, Illinois Notes

THIS WEEK FOR THE HAWKEYES
The University of Iowa women's tennis team (8-11, 2-7) travels to Evanston, Illinois to take on 27th-ranked Northwestern (12-6, 7-2) on Saturday. Action begins at 11 a.m. (CT) at the Combe Tennis Center. On Sunday, the Hawkeyes head to Champaign, Illinois, to face No. 51 Illini (12-9, 4-5) at 12 p.m.
QUOTING @COACHKDOUGH
"We've got one weekend left and I think our best tennis is ahead of us. We'll need to really come out to play against a tough Northwestern team and at Illinois. We're getting to that point in the season where every team is banged up so recovery is everything and trying to make sure everyone is happy, healthy and ready to go again."
GOING AGAINST THE WILDCATS
Iowa trails the all-time series against Northwestern 41-2. Last season, the 12th-ranked Wildcats topped the Hawkeyes 5-2 in Evanston. Iowa's last triumph over Northwestern was in 1992, when the Hawkeyes gathered a 5-4 victory.
TAKING ON THE FIGHTING ILLINI
The Hawkeyes and Illinois are tied 25-25 in the all-time series. Last season, Iowa topped then No. 42 Illinois, 4-3, on the road. The Fighting Illini last overcame the Hawkeyes during the 2012 season, when No. 50 Illinois posted a 6-1 victory at home.
A DOUBLES FORCE TO BE RECKONED WITH
Senior Morven McCulloch and junior Annette Dohanics are 8-2 as a doubles team this season. Most recently the duo defeated Penn State's Katia Blik and Victoria Kisialeva, 8-3, at the No. 1 doubles position. The pair holds a 5-2 record against Big Ten opponents.
SENIOR LEADERSHIP
Iowa seniors Shelby Talcott, Katie Zordani, Ellen Silver and Morven McCulloch have a combined 33-28 singles record this season. Talcott and McCulloch are a combined 19-12 at the top of the lineup.
TAKING DOWN RANKED OPPONENTS
Iowa will have faced nine ranked opponents after this weekend's contests. Last season, the Hawkeyes beat three ranked opponents, the most since coach Dougherty's first season when Iowa overcame five ranked competitors. The Hawkeye's most recent win over a ranked opponent was against No. 42 Illinois, 4-3, in Champaign, Illinois.
BECOME A FAN
Fans can follow the Iowa women's tennis team at facebook.com and via twitter @Iowa_Tennis. Live results from this weekend are available on the Iowa women's tennis schedule page at hawkeyesports.com.

?