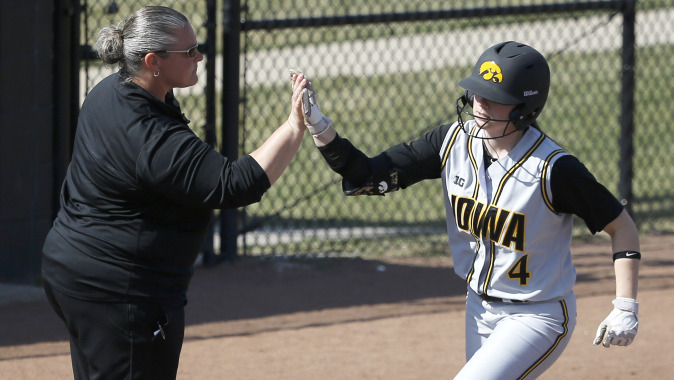 April 17, 2015
WEST LAFAYETTE, Ind. — Senior Megan Blank delivered the game-winning home run to lead the University of Iowa softball team to a 2-0 victory over Purdue on Friday evening. The Hawkeyes improve to 15-32 overall and 6-9 in Big Ten action following the win, while the Boilermakers fall to 26-17 on the season and 5-8 in conference action.
"Megan finally made an adjustment and attacked a pitch that was in the middle of the zone and attacked it really well," said head coach Marla Looper. "It was nice to have Sammi on with a walk right before her so it did a little bit more damage."
The Hawkeyes and Boilermakers traded zeros for the first five innings. Redshirt sophomore right-hander Shayla Starkenburg and Purdue hurler Lilly Fecho did not allow a hit through the first four and a half frames. Starkenburg (13-18) came out on top, recording the complete-game, shutout victory. The Ankeny, Iowa, native allowed just two hits, struck out seven, and walked one. Starkenburg has registered at least seven strikeouts in each of her last three appearances.
"Shayla did a really nice job on the mound today," said Looper. "She only gave up two hits and one of them was a sneaky bunt. She had a nice night, and she limited the free passes. She kept her composure and kept us in it until our offense could figure it out and get two runs across."
Iowa's only hit of the contest proved to be the difference maker. After redshirt sophomore Sammi Gyerman led off the sixth inning with a walk, senior Megan Blank sent her 26th career home run over the fence in left center to give Iowa a 2-0 advantage. Her 26 career home runs rank fourth on Iowa's all-time list.
The Hawkeyes and Boilermakers wrap of the Big Ten series tomorrow with a doubleheader. Game one is set to begin at 12 p.m. (CT) with game two following.
Iowa 2, Purdue 0
1
2
3
4
5
6
7
R
H
E
Iowa (15-32; 6-9)
0
0
0
0
0
2
0
2
1
2
Purdue (26-17; 5-8)
0
0
0
0
0
0
0
0
2
0
Game Decision
W: Starkenburg (IOWA) 13-18
L: Fecho (PU) 16-12