Box Score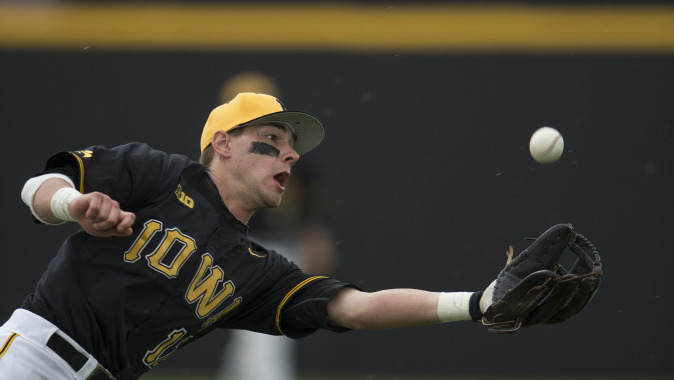 April 18, 2015
By BEN SCHMITZ
hawkeyesports.com
IOWA CITY, Iowa — Northwestern's Mason Reed pitched 7 1/3 innings of one-run ball to hand the 14th-ranked University of Iowa baseball team a 4-1 loss to close out the series in game two of Saturday's doubleheader at Duane Banks Field.
The Hawkeyes (26-11, 10-2) took 2-of-3 games during the weekend series –its fourth-straight Big Ten series win and seventh overall this season. The Wildcats are 11-26, 4-8.
"Anytime you play a double header it's tough," said UI head coach Rick Heller. "The fact they went with two left-handers surprised us; we thought they were going to go lefty-righty. I like to play different guys too. It was kind of a let-down situation type of situation that can happen. We rolled the dice and stuck with the same lineups out there.
"Calvin wasn't sharp and gave up a few too many runs. Hibbing was fantastic and Vandermaten was as good as he's been all year. We had a couple opportunities where the second baseman robbed us. Northwestern played well in the second game and I tip my cap to them for it."
After posting a 13-4 victory and never trailing in the first game of the doubleheader, Northwestern struck first in the night cap. Wildcat leadoff hitter Kyle Ruchim led off the game with a solo blast off the Sharp Family Video Board, giving Northwestern a 1-0 lead.
Northwestern pushed its lead to 4-0 in the fourth to chase Iowa starter Calvin Mathews from the contest. Following a one-out Joe Hoscheit walk, the Wildcats used back-to-back singles to load the bases before Hoscheit scored on a wild pitch. Connor Lind followed with a two-run single to left field, pushing the lead to 4-0.

| | | | | |
| --- | --- | --- | --- | --- |
| | 1 2 3 | 4 5 6 | 7 8 9 | R H E |
| NW (11-26, 4-8) | 1 0 0 | 0 3 0 | 0 0 0 | 4 6 1 |
| Iowa (26-11, 10-2) | 0 0 0 | 0 0 1 | 0 0 0 | 1 7 0 |
Pitching Decision
W – Reed Mason (2-7)
L – Calvin Matthews (3-1)
S – Grant Peikert (1)
Iowa found the scoreboard in the sixth with back-to-back two-out doubles. Junior Tyler Peyton started the rally with a two-bagger to left center before senior Sean Moore traded places with an RBI double down the left field line, making the score 4-1.
The Hawkeyes threatened in the eighth, loading the bases with one out, courtesy of an Eric Toole single and back-to-back walks from Peyton and Moore. With John Barrett at the plate representing the go- ahead run, Northwestern's Antonio Freschet made a leaping grab on the lineout and doubled Peyton off second base for the inning-ending double play.
"I firmly believe if Freschnet doesn't make that catch in the eighth we score a couple runs and we come away with the win tonight," said Heller. "Credit to the defense for making those plays though."
After a three hour and 15 minute rain delay with just three outs remaining, the Hawkeyes went down in order in the ninth for just its second Big Ten loss of the season.
"We went with what we told in regards to the weather," said Heller. "It's always tough to play a double header; in hindsight I wish I would have went with my gut and rolled the dice and played three games over the three-day span.
Mathews (3-1) took the loss after working 3 2/3 innings, allowing four runs on six hits. He had two strikeouts and two walks.
Mason (2-7) was credited with the win, allowing one run on seven hits with three strikeouts.
Iowa returns to action Wednesday, hosting Northern Illinois at 6 p.m. (CT).
NOTE: The Hawkeyes saw 3,549 fans take in the three-game weekend series, including a season-high 1,961 during Saturday's doubleheader.