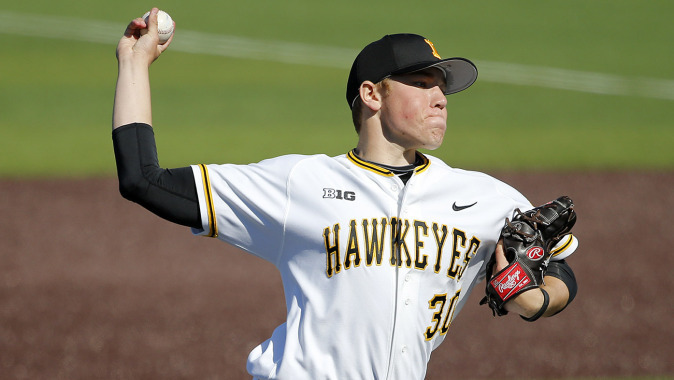 April 20, 2015
Northern Illinois (15-24) at No. 17 Iowa (26-11)
Dates
April 22, 2015
Location
Iowa City, Iowa | Duane Banks Field
Statistics
Northern Illinois | IOWA
Game 1
Date | Time
Wednesday, April 22 | 6:05 p.m. (CT)
Pitching Matchup
IOWA: Fr., RHP Nick Gallagher (0-0, 1.69 ERA) vs.
NIU: Fr., RHP, Kevin Jones (2-0, 9.15 ERA)
IOWA CITY, Iowa — The 17th-ranked University of Iowa baseball team will host Northern Illinois for a midweek game Wednesday at 6:05 p.m. (CT) at Duane Banks Field.
The Hawkeyes won 2-of-3 games last weekend over Northwestern to improve to 26-11 overall and 10-2 in Big Ten play. Iowa is ranked in six polls Monday, coming in 17th by Collegiate Baseball, 18th by Baseball America, 19th by D1Baseball.com, 21st in the USA Today Coaches' Poll, 24th by Perfect Game, and 29th by the USBWA.
Northern Illinois is 15-24 overall and 5-10 in the Mid-American Conference. The Huskies won the second game of an April 18 doubleheader at Toledo, 4-3, to avoid a three-game sweep. Northern Illinois has lost 12 of its last 14 games, which includes a nine-game losing streak from March 28-April 12.
The Huskies are hitting .258 as a team with two players hitting above .300. Stephen Letz and Brian Sisler are both hitting .324; Sisler has a team-leading 44 hits, 11 doubles, and 22 RBIs.
Northern Illinois has a 5.44 team ERA, giving up 372 hits and 255 runs (202 earned) over 334 innings. The Huskies will start freshman RHP Kevin Jones, who is 2-0 with a 9.15 ERA in 12 appearances (one start). Jones has allowed 24 runs on 30 hits over 20 2/3 innings. He has 14 strikeouts while issuing 20 walks.
Iowa will send freshman RHP Nick Gallaher (0-0, 1.69 ERA) to the mound for his third start. The Iowa City, Iowa, native has allowed two runs on six hits over 10 2/3 innings this season, fanning nine against four walks.
The Hawkeyes' pitching staff collectively currently ranks eighth in the nation in hits allowed per nine innings (7.30) and 19th in ERA (2.92). Iowa's defense has a .979 field percentage, ranking 13th in the country.
The Hawkeyes are 3-4 in midweek games this season, where they are hitting .275 and averaging 5.6 runs per game. Iowa's has a 4.75 midweek ERA, allowing 34 runs on 49 hits.
Junior Tyler Peyton is hitting at a .407 clip (11-of-27) during midweek action with eight runs scored. For the season, Peyton has a .363 average to rank third in the Big Ten.
Following Wednesday's midweek game, the Hawkeyes will host No. 25 Nebraska for a three-game series from April 24-26.