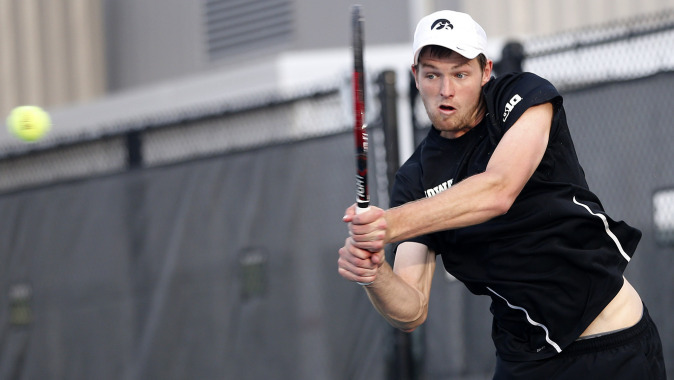 April 23, 2015
URBANA, Illinois — The eighth-seeded University of Iowa men's tennis team defeated ninth-seeded Wisconsin, 4-0, Thursday afternoon in the first round of the Big Ten Tournament contested at Akins Tennis Center.
"A great team effort today. Everyone who was able to play, played in the match and helped the team win. We accomplished one of our goals to advance to the quarterfinals of the Big Ten Tournament. We are excited for another opportunity to play Illinois," said UI head coach Ross Wilson.
Highlighted by a win over a ranked opponent at No.1 doubles, the Hawkeyes did not hold back winning five straight matches in doubles and singles. Matt Hagan, recently named to the All-Big Ten first team, and Lefteris Theodorou teamed up to defeat No. 71 Jose Carranza and Josef Dodridge, 8-6. The new partnership of Jake Jacoby and Andres Estenssoro, winner of the Big Ten Sportsmanship Award, at the No. 3 position proved positive as the duo earned an 8-4 decision over Lamar Remy and John Zordani. The win gave Iowa revenge over Wisconsin who took the doubles point in their first meeting earlier this spring.
Heading into the match with a 7-2 record, Dominic Patrick and Josh Silverstein battled Wisconsin's Alexander Kokorev and Jakhongir Jalalov. The match was abandoned due to Iowa winning the doubles point.
"Andres really stepped up in doubles today, teaming up with Jake. They got us a big win at the No. 3 position. Lefteris and Matt also played well, beating a nationally-ranked team," said Wilson.
In singles, Silverstein made quick work of Tomas Pitra at the No. 4 position. The freshman posted a straight set win, 6-1, 6-2 en route to his 16th singles win of the spring season. Theodorou kept the ball rolling with a straight set victory over Jalalov, the win improves his overall mark to 16-7 this spring.
Jacoby clinched the match for his team at the No. 5 spot. He squared off against the Badger's Jose Carranza, tallying a 6-4, 6-4 win and giving Iowa the 4-0 victory. Singles matches at No. 1, No. 3 and No. 6 were all abandoned due to Iowa clinching the match.
"As a team we have really grown as the year has progressed and it's awesome to be part of that. I think we came out with great energy in doubles. After doubles we kept the foot on the gas. Getting off to a hot start was key to staying ahead of Wisconsin today and it led to our 4-0 sweep," said Hagan.
The win over Wisconsin made it even sweeter for Hagan as he also celebrated becoming Iowa's 18th honoree on the league's first team and the first since Christian Bierich in 2009.
"It is an incredible honor to be a member of this year's first team All-Big Ten class. Especially because this season has been full of tough matches and tough opponents," noted Hagan.
Iowa's win propels them into the semifinals where it will have a rematch with top-seeded Illinois Friday at 10 a.m. (CT). In their first encounter of the spring, the Fighting Illini earned a 6-1 decision over the Hawkeyes on April 11.
(8) Iowa 4, (9) Wisconsin 0
Singles
1. Matt Hagan (UI) vs. Josef Dodridge (WISC): 6-2, 2-4, abandoned
2. Lefteris Theodorou (UI) def. Jakhongir Jalalov (WISC): 6-3, 6-4
3. Dominic Patrick (UI) vs. Alexander Kokorev (WISC): 7-6, 2-4, abandoned
4. Josh Silverstein (UI) def. Tomas Pitra (WISC): 6-1, 6-2
5. Jake Jacoby (UI) def. Jose Carranza (WISC): 6-4, 6-4
6. Nils Hallestrand (UI) vs. John Zordani (WISC): 7-6, 3-6, abandoned
Order of Finish: 4,2,5
Doubles
1. Theodorou/Hagan (UI) def. Dodridge/Carranza (WISC): 8-6
2. Patrick/Silverstein (UI) vs. Kokorev/Jalalov (WISC): 4-7, abandoned
3. Jacoby/ Estenssoro (UI) def. Remy/Zordani (WISC): 8-4
Order of Finish: 3,1