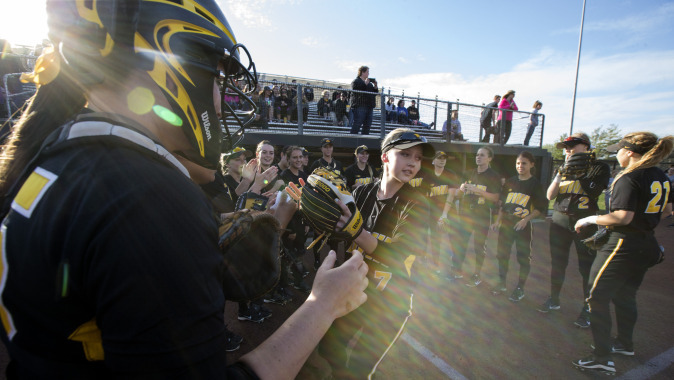 April 25, 2015
Editor's Note: The following first appeared in the University of Iowa's Hawk Talk Daily, an e-newsletter that offers a daily look at the Iowa Hawkeyes, delivered free each morning to thousands of fans of the Hawkeyes worldwide. To receive daily news from the Iowa Hawkeyes, sign up HERE.
By JIL PRICE
hawkeyesports.com
IOWA CITY, Iowa — After playing eight games against ranked opponents — seven of which were ranked in the top six in national polls — in the first seven weeks of the season, the University of Iowa softball team has seen success in the Big Ten Conference season.
The Hawkeyes have compiled a 7-10 record since the start of the conference slate, boasting wins over No. 4 Michigan, Maryland, and Illinois, and back-to-back series victories over Wisconsin and Purdue in the last two weeks.
With three Hawkeyes hitting over .300 in conference play, including senior Megan Blank (.460), redshirt sophomore Sammi Gyerman (.386), and redshirt junior Holly Hoffman (.314), and nine with on-base percentages of .300 or higher, the team is hitting its stride.
"The extra innings win at Wisconsin was a turning point for us," junior Whitney Repole said. "It was the clutch moment for the team. As far as pitching goes, we knew we could hold them out. From there we've been giving up fewer hits and have been more consistent scoring runs when we need to."
The runs have been coming in with an increase in power. Heading into its Big Ten series at Minnesota, Iowa has hit a home run in each of its last four games, three coming against conference opponents.
"More of the clutch hits have been coming, and seeing that gives everyone else confidence, the ability to relax, and not press too much at the plate," Blank said. "I think the production has helped."
The Hawkeyes own a .282 batting average, .450 slugging percentage, and .400 on-base percentage in conference games alone, compared to their .265 batting average, .399 slugging percentage, and .352 on-base percentage on the season. Half of Iowa's 30 home runs have come in its 17 conference games.
Blank has been a spark plug at the plate raising her batting average to .450 on the season with a blistering .460 in the team's 17 Big Ten competitions. She also leads the way with five doubles, two triples, five home runs, and 17 RBIs in conference action.
"Taking it one at bat at a time, moving base to base, and not trying to do too much has helped," Blank said.
Gyerman, who is also amidst a successful conference stretch with a .386 batting average and 16 RBIs, echoes her sentiments.
"Confidence, finally settling in, and working together as a team has helped," Gyerman said. "We've been able to put all the pieces together in a single game, instead of having hitting do well in one game, pitching do well in another game, and defense do well in another.
"It's nice to be able to accomplish things we've worked hard for."
The Hawkeyes continue Big Ten action on the road with a three-game series at No. 12 Minnesota on April 24-26, before closing out the regular season with a home series against Northwestern on May 1-3.
Iowa, ranked ninth in the Big Ten standings heading into the series with the Gophers, is looking to clinch one of 12 spots in the Big Ten Tournament held at Ohio State from May 7-9.