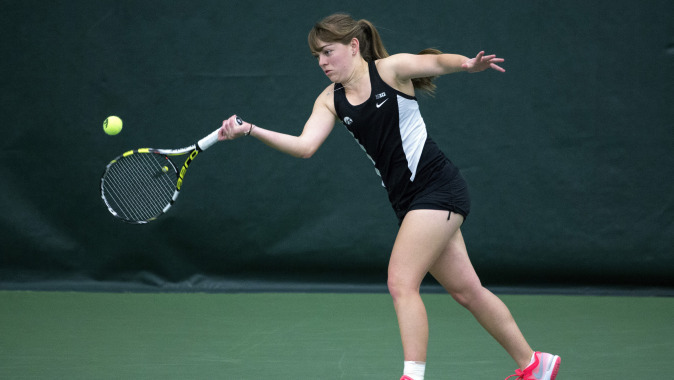 April 27, 2015
IOWA CITY, Iowa — University of Iowa freshman Zoe Douglas was named Most Valuable and Most Improved Player at the UI women tennis team's annual awards banquet Friday night.
Douglas posted a 6-4 singles record this dual season, including a 4-4 mark in Big Ten play. Douglas played at the No. 4 and No. 6 positions in the lineup for the Hawkeyes. Teaming with senior Katie Zordani, Douglas collected a 10-5 overall doubles record.
Zordani was also honored at the banquet, receiving the Leadership and Citizenship Award. The Hawkeye veteran played at the No. 4 and No. 5 singles positions, gathering an 8-11 record during her senior season.
Fellow senior Shelby Talcott earned the Iron Hawk Strength and Conditioning Award, presented by the strength and conditioning coach to the Hawkeye who demonstrates attitude, work ethic, and energy in the strength and conditioning room. Talcott played at the top of the lineup this season, gathering a 10-3 overall singles record.
Junior Annette Dohanics was honored with the Grinder Award for the third straight year. The Grinder Award is presented to the player who consistently contributes to the team through hard work and dedication. Dohanics recorded seven wins this season, including two victories against ranked competition.
All five award winners were selected by fellow teammates and coaches.

?