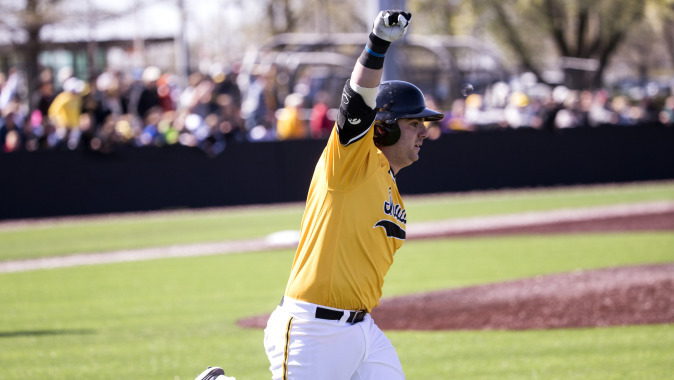 April 27, 2015
IOWA CITY, Iowa — University of Iowa junior Jimmy Frankos has been named Big Ten Co-Player of the Week, it was announced Monday by the league office. It is the first honor of his career.
The Park Ridge, Illinois, native recorded at least one hit in all four games last week, hitting .545 (6-for-11) with three RBIs and two runs scored. Frankos tallied his first two multi-hit games of the season and saw his average climb 89 points during the week.
The highlight of Frankos' week came in game two of the series against No. 25 Nebraska, when the catcher delivered a bases loaded, two-out, full-count RBI single to left field to send the Hawkeyes to a 3-2 walk-off victory in 10 innings. It was Frankos' first career walk-off hit.
Frankos tallied his first two-hit performance of the season in Iowa's 4-3, 11-inning victory over Northern Illinois on April 22. He drove in a first-inning run, finishing 1-for-3 in Iowa's game one, 4-3, triumph over Nebraska before finishing off the series with a 2-for-3, one run, one RBI performance in Iowa's 5-1 victory in the series finale.
Frankos hit .500 (4-for-8) with a .500 on-base and slugging percentage in leading Iowa to a three-game sweep over the Cornhuskers. It was Iowa's sixth straight series victory dating back to the 2014 season — the longest stretch in program history.
Iowa has now earned three Big Ten honors this season. Freshman Austin Guzzo was recognized as the Big Ten Freshman of the Week on Feb. 16, and senior Eric Toole was selected as the Big Ten Player of the Week on March 31.
Frankos shares the weekly honor with Illinois' Casey Fletcher.
Iowa (30-11, 13-2) hosts Sacramento State at 4 p.m. (CT) Tuesday at Banks Field. The Hawkeyes return to Big Ten action Friday, opening a three-game series at Michigan.