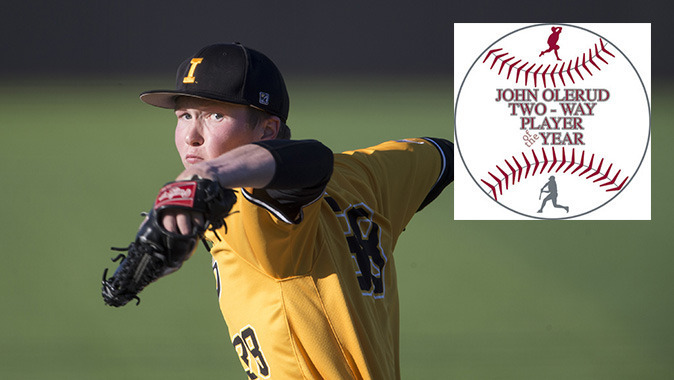 April 27, 2015
IOWA CITY, Iowa — University of Iowa junior first baseman/right-handed pitcher Tyler Peyton has been named to the 2015 John Olerud Two-Way Player of the Year Award Watch List, it was released by the National College Baseball Hall of Fame. The award is presented to the nation's top player both on the mound and at the plate.
As a pitcher, the Grimes, Iowa, native is 5-3 with a 2.60 ERA in 11 starts as the Hawkeyes' Friday starter. He is tied for fifth in the Big Ten in strikeouts (55), seventh in strikeouts looking (19), tied for seventh in wins (5), tied for ninth in innings (65 2/3), and 10th in ERA (2.60).
The right-hander threw a complete game shutout and drove in the game-winning run in Iowa's 2-0 series opening victory over No. 17 Indiana on March 29, which led to him earning Big Ten Player of the Week honors by College Sports Madness.
Offensively, Peyton is Iowa's top hitter, posting a .357 batting average to rank fifth in the league, and he is among the top three on the team in runs (19) and RBIs (19). Peyton has 13 multi-hit games (10 two-hit, two three-hit, one four-hit) and has hit safely in 28-of-34 games and reached safely in 31-of-34 games this season.
Peyton, who starts at first base when he's not pitching, has hit for himself while on the mound in four of his five Big Ten starts. He is 2-1 with a 2.51 ERA and hitting .357 (5-of-14) with one run and one RBI when playing both ways.
A total of 36 players from across the country are on the initial watch list, including five from the Big Ten Conference, including Michigan's Carmen Benedetti and Jacob Cronenworth, Nebraska's Austin Christensen, and Minnesota's Matt Fielder.
The Olerud Award is named for the former Washington State University standout who achieved success both as a first baseman and left-handed pitcher during the late 1980s, and who was inducted into the National College Baseball Hall of Fame in 2007. The award will be presented as part of the Hall of Fame's Night of Champions celebration in Lubbock, Texas, on June 28-29.
The Hawkeyes (30-11, 13-2) host Sacramento State on Tuesday at 4 p.m. (CT) before traveling to Michigan for a three-game weekend series from May 1-3 in Ann Arbor.