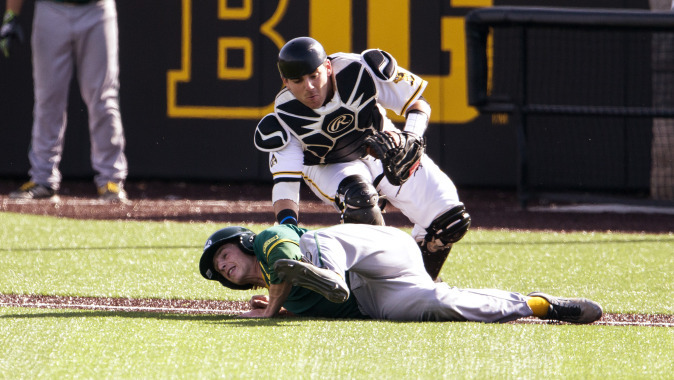 May 4, 2015
Western Illinois (15-28) at No. 15 Iowa (33-12)
Dates
May 5, 2015
Location
Iowa City, Iowa | Duane Banks Field
Statistics
Western Illinois | IOWA
Game 1
Date | Time
Tuesday, May 5 | 6:35 p.m. (CT)
Pitching Matchup
IOWA:Fr., RHP Nick Gallagher (0-0, 1.69 ERA) vs.
WIU: TBA
IOWA CITY, Iowa — The 15th-ranked University of Iowa baseball team hosts Western Illinois in its final midweek game Tuesday at 6:35 p.m. (CT) at Duane Banks Field.
It's $2 Tuesday with $2 adult admission and $2 tacos for Cinco de Mayo. It's UI Faculty and Staff Night with those individuals receiving free admission with an Iowa ID.
The Hawkeyes have won seven of their last eight, 10 of their last 12, and 12 of their last 15 games to run their record to 33-12 this season. The 33 wins are the most for the program since 1990.
Iowa is ranked for the sixth straight week, being ranked in the top 20 in five different polls. The Hawkeyes are 15th by Collegiate Baseball, 16th by Baseball America, 18th by D1Baseball.com, 19th by Perfect Game, and 20th by the USA Today Coaches' Poll. The USBWA poll has yet to be released, and Iowa has an RPI of 24.
The Leathernecks are 15-28 overall after dropping 2-of-3 games last weekend at South Dakota State. Western Illinois is 7-12 since downing the Hawkeyes, 16-5, on April 1 in Macomb.
In the first meeting, Iowa led 5-0 through 4 1/2 innings before the Leathernecks scored the final 16 runs over a four-inning stretch. Redshirt sophomore Josh Martsching suffered the loss, allowing four runs on two hits in 2/3 of an inning. All five Iowa pitchers gave up at least one run.
WIU's Colan Borchers earned the win, throwing one inning of relief. He was one of four Leatherneck pitchers to hold the Hawkeyes at bay over the final four frames.
Western Illinois is hitting .252 as a team and the team doesn't have a player hitting above .300 this season. JJ Reimer leads the team with a .291 average with six doubles, one triple, three home runs, and a team-best 34 runs. Adam McGinnis has a team-high 25 RBIs, while hitting .250.
The Leathernecks' pitching staff has a 5.98 team ERA, allowing 429 hits and 310 runs (242 earned) over 364 innings. Western Illinois' starter will be game day decision Tuesday.
Iowa, who has won its last two midweek games in walk-off fashion to improve to 5-4 in midweek contests this season, will send freshman RHP Nick Gallagher to the mound for his fifth start. The Iowa City, Iowa native hasn't factored in a decision this season, where he is 0-0 with a 1.69 ERA over 16 innings. Gallagher has allowed three runs on 12 hits, while fanning 13.
Offensively, the Hawkeyes bats are coming on, as the team has hit above .300 in each of its last three weekend series. Iowa scored 20 runs in taking 2-of-3 games last weekend at Michigan with six players hitting .300 or better. Five regulars — Tyler Peyton (.364), Eric Toole (.330), Jake Mangler (.319), Nick Roscetti (.313), Nick Day (.310) — are all hitting above .300 this season.
Toole enters Tuesday's game second in school history with 195 career singles, needing just one base hit to tie and two to break Mike McQuillan's school record. The outfielder also is a hit shy from moving into fourth place on the all-time hits list. Toole has 225 hits as a Hawkeye.
Tuesday's game will be streamed live on BTN Plus on BTN2Go and be broadcast on 1360-AM KMJM. Following the midweek tilt, the Hawkeyes will host Minnesota for their final three-game home stand of the regular season from May 8-10.