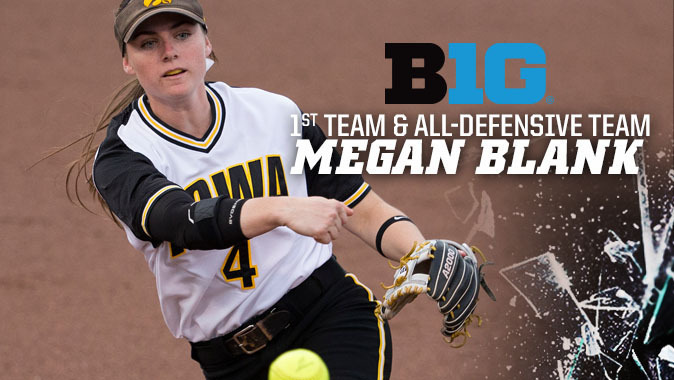 May 6, 2015
IOWA CITY, Iowa — University of Iowa softball shortstop Megan Blank earned the fourth consecutive First Team All-Big Ten award of her career and was named to the conference's All-Defensive Team on Wednesday morning. She is the second player in program history to garner first team accolades four times, joining Kari Knopf (1994-97).
Blank, who has started all 210 games of her career at shortstop, has set two school records in her career and has the opportunity to accomplish more with Big Ten Tournament action remaining. She broke the 18-year-old career doubles record of 52 held by Knopf this season, hitting 17 as a freshman, 15 as a sophomore, 11 as a junior, and 17 as a senior to bring her career total to 60.
As a sophomore in 2013, Blank broke the program's 20-year-old record for batting average in a season (.428 set by Kim Davis in 1993) and posted the 11th highest batting average in a season in Big Ten Conference history with a .437 clip.
Blank has a chance to break the program's career batting average record (.409 set by Leah Twigg in 1997), and the single season batting average record for the second time in her career with the conference tournament left to play. She is hitting .435 this season and owns a career average of .408.
Blank is also climbing the ranks in additional statistical categories at Iowa. She is currently second all-time in career RBIs (153), fourth in career home runs (27), tied for fourth in career triples (12), sixth in career hits (247), and eighth in career runs scored (126).
The Culver City, California, native has paced the Hawkeyes in nearly every offensive category this season, including batting average (.435), slugging percentage (.733), on-base percentage (.511), hits (70), doubles (17), triples (2), and home runs (9). Among members of the Big Ten Conference, she is second in batting average, fourth in doubles, sixth in hits, seventh in slugging percentage and total bases, and eighth in on-base percentage.
Blank has been an anchor in the field for the Hawkeyes all season, helping her team turn a conference-leading 33 double plays in 2015. She has been a part of 20 double plays, has only committed nine errors in 225 chances, and owns a .960 fielding percentage.
Junior Haley Hansel was also honored on Wednesday as the Big Ten Sportsmanship Award recipient. The Overland Park, Kansas, native earned Iowa softball's Inaugural Hawkeye Service Award for her consistent presence volunteering in the community with Big Brothers Big Sisters earlier this season. She has appeared in 18 games for the Hawkeyes, 17 times as a pinch runner and once as a pinch hitter.
No. 10-seeded Iowa will face seventh-seeded Rutgers in the opening round of the Big Ten Tournament hosted by Ohio State in Columbus, Ohio. The game, which will be shown life on the Big Ten Network, is set to begin at 7 p.m. (CT) on Thursday, May 7.