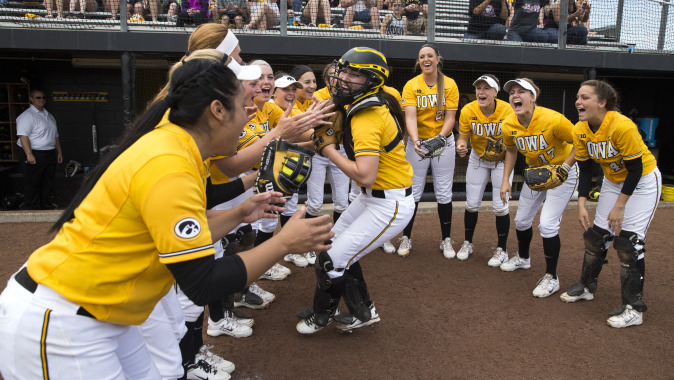 May 9, 2015
By BRANDEE BRITT
COLUMBUS, Ohio — With back-to-back upset wins against No. 7 Rutgers and No. 2 Minnesota in the 2015 Big Ten Softball Tournament, the University of Iowa softball team is on a roll in the post season with nothing to lose.
"During the season we were worried about our record, but now we are just here to win," said redshirt junior Holly Hoffman. "We are the underdog, and no one expects anything from us. There is no pressure."
Redshirt sophomore pitcher Shayla Starkenburg agrees.
"My mindset is that we have nothing to lose," Starkenburg said. "We're facing teams who are already going to make the NCAA Tournament, and here we are. We have nothing to lose and if we can make it to the NCAA Tournament it will be the most exciting part of this year. We're giving it 100 percent every time we go out there."
After earning the No. 10 seed with an 8-15 record in regular season conference play, the Hawkeyes overcame a three-run deficit against seventh-seeded Rutgers. Swinging the big bats for Iowa were sophomore Kaitlyn Mullarkey, who hit a two-run blast to tie the contest 3-3 in the sixth, and redshirt sophomore Sammi Gyerman, who knocked a two-run home run out of the park in the seventh to give her team the lead.
It proved to be the game winner as the Hawkeye defense shut down the Scarlet Knights from the third inning on to secure the 5-3 opening round win.
"There was no doubt in my mind that we were going to come back and win that game," said senior Megan Blank. "I feel like there is no pressure at all. I don't know exactly what it is, but we just keep thinking why not us? We know we are a good team, and we know if we play how we are capable of playing that we can beat anybody."
The opening round win gave the Hawkeyes a rematch with the nationally ranked Golden Gophers. After being swept by No. 12 Minnesota in regular season play, the Hawkeyes entered the matchup knowing they were the dark horse.
"We know we're the underdogs and that is an advantage for us because we are really gritty," Gyerman said. "That's something we have been focusing on all year."
That grit proved to be the difference-maker as the Hawkeyes eliminated the Golden Gophers in the quarterfinals.
A Hoffman two-run double was the only offense the Hawkeyes needed as Starkenburg registered a stellar performance in the circle, holding the Gophers scoreless for just the third time this season. She allowed two hits and struck out four to secure the 2-0 win and notch Iowa's third victory over a ranked opponent this season.
"It was awesome," Gyerman said. "We put it all together and played Iowa softball. Nine out of 10 times they might beat us, but all we were focused on was getting that one win. We had to be better than them for two hours and that was what we did. It was the perfect win for us.
"Teams come in and look past us. Being able to surprise them is always fun for us and adds to the excitement of the win."
While Iowa is experiencing success on the field, they are also having a blast doing it. Dubbed the `fun team' of the tournament, the Hawkeyes are putting their lively personalities on display on and off the field.
"We are finally putting our personalities on the field," said Blank. "We are a goofy team. I think we are finally starting to be ok with showing that."
"If you are having fun you are loose and you aren't scared of what's going to happen," said sophomore Kaitlyn Mullarkey. "We came in saying we were going to shock everyone and do something. I think that has given us an edge."
The Hawkeyes advance to face third-seeded Nebraska in the semifinals today at 5 p.m. (CT). With a victory, Iowa will take on the winner of the 2:30 p.m. contest between fourth-seeded Northwestern and top-seeded Michigan in the championship game at 7:30 p.m. tonight.