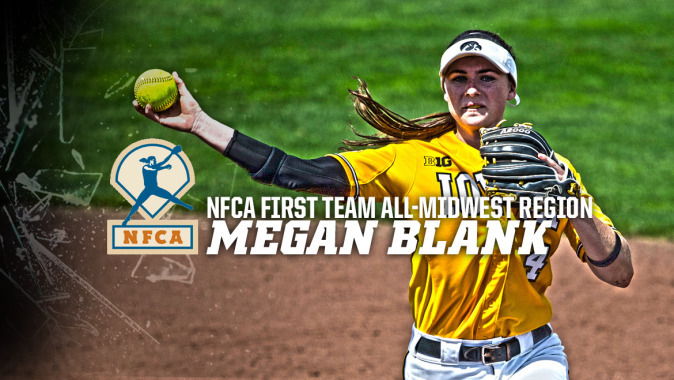 May 14, 2015
NFCA All-Region Teams

IOWA CITY, Iowa — University of Iowa shortstop Megan Blank earned her fourth consecutive National Fastpitch Coaches Association (NFCA) award on Thursday, garnering first team All-Midwest Region recognition. The senior is the third player in program history to earn four honors from the organization in her career.
The Culver City, California, native earned first team All-Midwest Region honors as a sophomore in 2013 and received second team All-Midwest Region recognition as a freshman in 2012 and as a junior in 2014. She joins UI alums Kari Knopf (1994-97) and Terri McFarland McClendon (1989-92) as four-time honorees.
Blank made a statement in her final season with the program, as she broke or tied five school records and finished in the top 10 in 10 statistical categories. She closed the season with a .442 batting average to break Iowa's single-season record for the second time in her career. She bested the 20-year-old mark set by Kim Davis (.428) with a .437 average in 2013.
Her .442 batting average in her senior season allowed her to break Iowa's 18-year-old career batting average record of .409, set by Lea Twigg in 1997. Blank ends her career with an average of .410.
Blank's third record came earlier this season, when she hit the 53rd double of her career at No. 4 Michigan on March 28, 2015. That double fell another 18-year-old school record of 52 career doubles, set by Knopf in 1997. Blank added 11 more in the remainder of the season, bringing the new record to 63.
In the semifinal round of the Big Ten Tournament against No. 3-seeded Nebraska, Blank matched two more school records. She went 3-for-4 at the plate for the Hawkeyes in their 9-6 loss with three doubles — tying the program's record for doubles in a game (Alicia Gerlach vs. Michigan in 1999, Christy Herbert vs. Purdue in 1997). The trio of doubles also brought her single-season total to 20, which ties the school record set by Liz Dennis in 2002.
Blank also ends her career at Iowa second all-time in RBIs (153), tied for second in triples (13), fourth in home runs (27), fifth in runs scored (130), tied for fifth in hits (253), tied for eighth in home runs in a single season (9), and tied for 10th in hits in a single season (76).
Blank is one of seven players from the Big Ten Conference to receive first team All-Midwest Region recognition. A total of 12 were named to the region's first team. With her All-Region award, Blank is eligible to receive All-America honors. Regional representatives meet prior to the Women's College World Series to select All-America first, second, and third teams in Oklahoma City, Oklahoma.
Each All-America team is comprised of 18 players, including three pitchers, one catcher, one first base, on second base, one third base, one shortstop, three outfielders, one utility/non-pitcher, and five at-large positions.
Blank became the second player in program history to earn four straight first team All-Big Ten awards in her career (Knopf) and was named to the conference's All-Defensive Team for the second consecutive season in 2015. She is looking to cap her historic Hawkeye career with her first All-America honor.