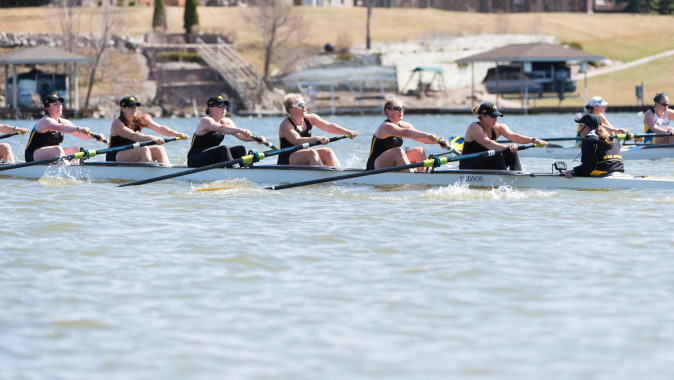 May 17, 2015
Full Results 

Read the May issue of Hawk Talk Monthly
Download your Iowa Hawkeye iPhone/ipad app!
Download your Iowa Hawkeye Android app!
Big Ten Network: Free Hawkeye Video
24 Hawkeyes to Watch Download your Hawk Talk Monthly iOS app
Download your Hawk Talk Monthly android app
INDIANAPOLIS, Ind. — University of Iowa rowing completed its season with a sixth place team finish at the 2015 Big Ten Championship held at Eagle Creek Park in Indianapolis, Indiana, on Sunday morning.
Last year's national champion Ohio State recorded its third consecutive Big Ten title with 186 points, followed by Michigan (162), Wisconsin (140), and Indiana (121). Minnesota (88), Iowa (79), Michigan State (58), and Rutgers (24) rounded out the team standings.
Iowa's total marks the second highest scoring performance at the Big Ten Championships in program history, and the highest since 2003 when the Hawkeyes totaled 99 points to finish fourth.
Senior Beth Baustian earned First Team All-Big Ten recognition and junior Cristy Hartman earned Second Team All-Big Ten honors for their efforts on the water this season. Junior Zoe Ribar was Iowa's Sportsmanship Award recipient.
"It was definitely another step forward for our program," said head coach Andrew Carter. "As a group, we acknowledge that we came up short of promise in a couple of areas this weekend, but overall there is much to be proud of this year. Knowing how many women return in the fall, I know there will be even more to be proud of next year."
The Hawkeyes opened the second day of championship racing with a sixth place finish in the 1V8+ race. The Hawkeyes battled it out with Ohio State, Michigan, Indiana, Wisconsin, and Minnesota, to cross the finish line with a time of 07:15.131 and collect 27 points.
Iowa's 2V8+ had a dominating performance in the Petite Finals, beating Rutgers by 28.528 seconds.
Iowa's 1V4+ boat got the V4+'s off to a strong start, finishing fourth place. The Hawkeyes battled it out between Wisconsin and were just a second off at the 500-meter, 1000-meter, and 1500-meter marks. Wisconsin managed to hold the one second lead until the end to edge the Hawkeyes. Just over five seconds separated the Hawkeyes from second-place Michigan (07:58.903).
The 2V4+ crew continued the momentum into the 2V4+ finals, where the Hawkeyes (8:11.689) finished a narrow .247 seconds off of third-place Michigan (8:11.442) and 2.537 seconds off of second-place Wisconsin (8:09.152), to collect 10 points. The 3V4+ race had the highest finish of the day, beating out Minnesota, Indiana, and Michigan.
The Hawkeyes closed the day with a sixth place finish in the 2N8+ finals, finishing a full 44 seconds ahead of the Golden Gophers crew.
"Our performance in the 4+'s was definitely a highlight today," said Carter. "The 3V4+ came away with medals and our 1V and 2V crews were a fraction of a second out of the medals. Many of those women will be back in 2015-16 so we're sure to see those names making an even bigger mark in the future.
"I think a few more points were in our grasp today, but we learned those lessons. This is the Big Ten Championships and you have to expect the best out of seven other rowing programs. That means there can be nothing, but your best brought to the race course. Our group is keen to do all necessary to ensure that's the case next year."
Line Ups
1V8+: Nina Hendriks, Zoe Ribar, Morgan Grastorf, Lauren Subler, Jessica Streur, Cristy Hartman, Hannah Hawks, Beth Baustian, Katie Brown (coxswain)
2V8+: Alyssa Armstrong, Rebecca Thompson, Gabby Watson, Kat Tillman, Kaelyn Heiberg, Gemma Kerr, Claire Benschoter, Maddie Anglin, Destinee Gwee (coxswain)
1V4+: Sarah Powell, Victoria Bricker, Bec Clayton, Kasia Gniatczyk, Ellen Cranberg (coxswain)
2V4+:Mackenzie Norton, Sarah Rhoads, Erin Czupil, Brianna Achs, McKinzie Cowley (coxswain)
3V4+: Amelia Koehn, Lauren VanderWall, Kaitlyn Daugherty, Skylar McSorley, Rachel Chambers (coxswain )
1N8+: Amy Schembari, Bianca DiBellonia, Baillie McCunn, Danielle Bender, Zora Marinkovich, Brenna Parke, Izzy Dolba, Ashley Duda, Emma Hindes (coxswain)
2N8+: Arika Henry, Olivia Miller, Hannah Morris, Rachael Jipp, Kim Hayes, Alyssa Wagenknecht, Trisha Huerta, Ashlyn Bauer, Alex Wejner (coxswain)