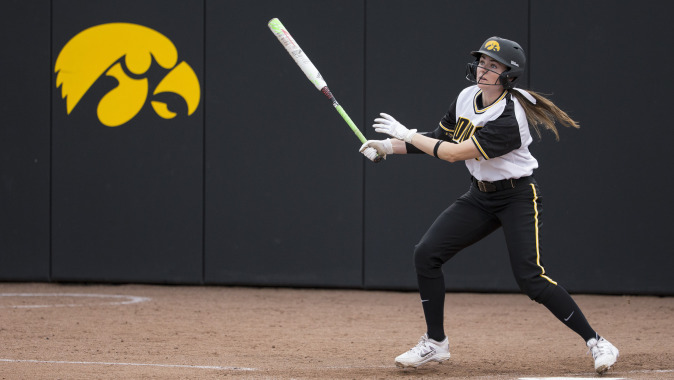 May 27, 2015
IOWA CITY, Iowa — University of Iowa shortstop Megan Blank signed a one-year professional contract and will continue her softball career in the National Pro Fastpitch (NPF) with the Chicago Bandits. The senior is the first Hawkeye to play professionally since 2010, and the eighth to extend her career into the professional ranks in program history.
Blank practiced with the Bandits on Thursday and Friday last week and was given the opportunity to sign as a free agent following the second practice. It is a dream come true for the Culver City, California, native, who wore her new team's uniform for the first time in an exhibition game last Sunday.
"It's definitely exciting and something I've wanted to do for a long time," Blank said. "I always said I wanted to be the first female to play for the Los Angeles Dodgers. Now I have this great opportunity to keep playing with the Chicago Bandits, and I'm going to make the most of it.
"I couldn't have done it without the coaches at Iowa. They pushed me over the last four years, helped me become a better softball player, and made me a better person on and off the field. I can't thank them enough for that."
Bandits general manager Aaron M. Moore is excited for what Blank will add to the roster.
"Megan is a player that was on our draft list back in April, and we are thankful the opportunity to add her was still there," said Moore. "We think she is going to be a key player to our success, not only in 2015, but hopefully for many more seasons down the road.
"She fits perfectly with our roster and is so versatile. We are looking forward to Megan in a Bandits uniform."
Blank capped her Hawkeye career with a stellar spring season in which she broke or tied five different school records and finished in the top 10 in 12 statistical categories. She hit a blistering .442 in her finale season to break Iowa's single-season batting record for the second time in her career. Her .437 average in 2013 topped the 20-year-old record set by Kim Davis (.428). Blank's .442 effort in her senior campaign brought her career average to .410, which bested the program's 18-year-old record of .409 set by Lea Twigg in 1997.
Blank also surpassed the 18-year-old career doubles record of 52 set by Kari Knopf in 1997 this season. She ended her four-year career with 63 doubles after hitting a total of 20 in 2015 to tie Iowa's single season school record set by Liz Dennis in 2002. Blank hit her last three doubles in the semifinal round of the Big Ten Tournament against No. 3-seeded Nebraska. Her 3-for-4 performance tied the program record for doubles in a single game (Alicia Gerlach vs. Michigan in 1999, Christy Herbert vs. Purdue in 1997).
Blank ended her career at Iowa second all-time in RBIs (153), tied for second in triples (13), fourth in home runs (27), fifth in runs scored (130), tied for fifth in hits (253), tied for eighth in home runs in a single season (9), and tied for 10th in hits in a single season (76).
Following the season, Blank became the third player in program history to earn four consecutive National Fastpitch Coaches Association (NFCA) All-Midwest Region honors. She was named a first team honoree this season and in 2013, and a second team honoree in 2012 and 2014.
Blank also earned her fourth-straight first team All-Big Ten accolade. She is only the second player in Iowa history to accomplish the feat, joining Knopf. Additionally, she was named to the conference's All-Defensive Team for the second consecutive season and to the Big Ten All-Tournament Team for her efforts in the postseason.
The Bandits open the regular season this Friday, May 29, against the Rebellion in Washington, Pennsylvania, before returning for their home opener on Thursday, June 4 in Rosemont, Illinois.