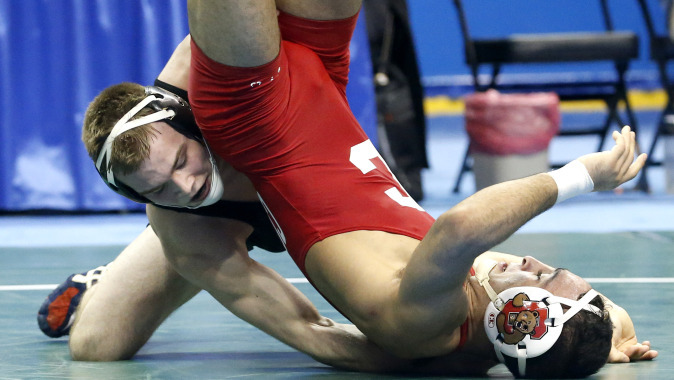 March 30, 2015
IOWA CITY, Iowa — University of Iowa All-Americans Nathan Burak and Brandon Sorensen lead a group of 17 Hawkeyes to Akron, Ohio, this weekend to compete at the 2015 University Nationals.
Competition begins Friday at the Louis and Freda Stile Athletic Field House on the campus of the University of Akron.
Sorensen, a fourth-place finisher at 149 pounds at the 2015 NCAA Championships, is competing at 70 kg/154 lbs. Burak, a two-time All-American at 197 pounds, is competing at 97 kg/213 lbs. They are two of 15 Hawkeyes competing in the freestyle tournament. Preliminary rounds begin Saturday at 8 a.m. (CT), and the finals begin Sunday at 8 a.m.
Redshirt freshmen Sam Stoll (130 kg/286 lbs.) and Burke Paddock (75 kg/165 lbs.) are competing in the Greco-Roman tournament. Stoll won Greco-Roman bronze at the 2013 Junior World Championships. Paddock is a two-time Junior Greco World Duals Champion and Most Outstanding Wrestler (2012-13). The entire Greco-Roman tournament is contested Friday beginning at 8 a.m.
Alex Meyer (80kg/176 lbs.), Phillip Laux (57 kg/125 lbs.), and Kris Klapprodt (97 kg/213 lbs.) return to the freestyle tournament field after placing fourth, fifth, and eighth, respectively, in 2014.
Other University of Iowa representatives include Mitch Bowman (86 kg/189 lbs.), Sammy Brooks (86 kg/189 lbs.), Topher Carton (65 kg/143 lbs.), Edwin Cooper, Jr. (70 kg/154 lbs.), Jake Kadel (70 kg/154 lbs.), Logan McQuillen (74 kg/163 lbs.), Patrick Rhoads (74 kg/163 lbs.), Skyler St. John (74 kg/ 163 lbs.), Tagen Lambotte (70 kg/154 lbs.), and Logan Thomsen (70 kg/154 lbs.).
Flowrestling is providing a live stream of the event live beginning Friday, May 29 at 8 a.m.