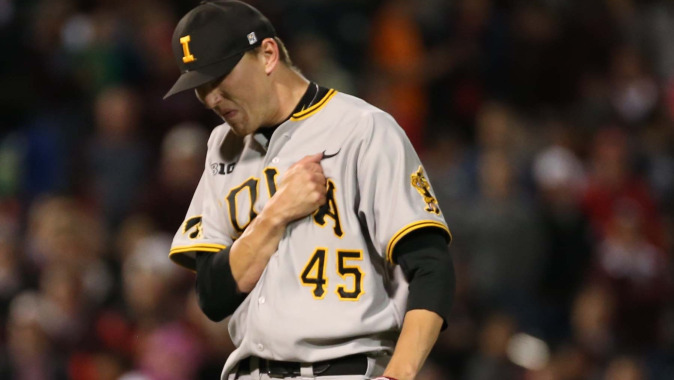 June 2, 2015
Editor's Note: The following first appeared in the University of Iowa's Hawk Talk Daily, an e-newsletter that offers a daily look at the Iowa Hawkeyes, delivered free each morning to thousands of fans of the Hawkeyes worldwide. To receive daily news from the Iowa Hawkeyes, sign up HERE.
By JAMES ALLAN
hawkeyesports.com
IOWA CITY, Iowa — Nick Hibbing's final day as a pitcher for the University of Iowa baseball team was one he won't soon forget.
Hibbing capped off his Hawkeye career by throwing 8 2/3 innings of no-hit ball in two high-stakes NCAA Regional games on May 31 in Springfield, Missouri. He tallied a victory in Iowa's 2-1, 11-inning win over Oregon before tossing 5 2/3 no-hit ball in relief against Missouri State in a regional final.
"It was a special day for me," said Hibbing, a right-handed pitcher from Lindenhurst, Illinois. "We didn't pull out the win, which is No. 1 and upsetting. It's my senior year; my last shot at a championship, so I tried to do everything I could to stay mentally prepared and tried to block everything out except for each individual pitch."
Hibbing was called upon in unenviable circumstances in an elimination game against Oregon. He was summoned in relief with the bases loaded, nobody out, and the game tied at one in the bottom of the ninth inning.
"Coach just had faith in me to go into the Oregon game," said Hibbing.
"It's a dire strait situation," said UI head coach Rick Heller. "'I said strike the guy out and get a double play, and that's what happened.'"
After pitching his way out of the bases loaded jam, Hibbing was chomping at the bit to get back on the mound. During the hour break before facing Missouri State in a second elimination game, Hibbing cornered Heller to express his desire to pitch.
"He said he wanted to be the first guy out of the bullpen," said Heller. "I was hoping it wasn't going to be in the first inning."
It was.
Iowa starter Connor Grant lasted just four batters and 17 pitches before the Hawkeyes went to their senior closer with the bases loaded and one out. The Bears plated the game's first run on a sacrifice fly before Hibbing went into shutdown mode.
Hibbing struck out at least one batter in each his six innings, including striking out the side in the second. He held the Bears hitless through 5 2/3 innings and finished with a career-high eight punchouts in the game.
"I fed off the crowd energy," said Hibbing of the pro-Bear crowd of 5,656 at Hammons Field. "I like doing that. I tried to give our team a chance to win. It was my job to do that, so I'd like to think I did my part."
Hibbing performed throughout his senior season, earning second-team All-Big Ten honors after being one of the most dominant pitchers in the conference. He finished with a 4-1 record, 1.57 ERA, and had 47 strikeouts to five walks on the year.
"Nick was a warrior," said Heller. "He turned a 180 since I (was hired as head coach) at Iowa. It has been so much fun to watch him grow up, mature, and clean up as a pitcher, and how he competes is fun to watch."
Iowa's season ended with a 3-2 loss to Missouri State, but Hibbing's stellar NCAA Regional performance didn't go unnoticed. He was named to the Springfield Regional All-Tournament team and was selected as the regional's Most Outstanding Player.
"Nick did an unbelievable job," said Heller. "The year he had is phenomenal."