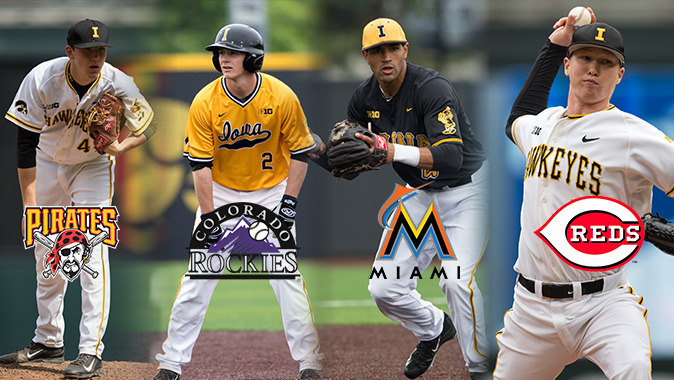 June 10, 2015
IOWA CITY, Iowa — Four current University of Iowa baseball student-athletes and two Hawkeye recruits were selected in the 2015 Major League Baseball First-Year Player Draft on Wednesday.
Senior Nick Hibbing was taken in the 16th round with the 487th pick by the Pittsburgh Pirates, senior Eric Toole was selected with the 647th pick in the 22nd round by the Colorado Rockies, senior Kris Goodman was taken in the 32nd round as the 956th pick by the Miami Marlins, and junior Tyler Peyton was selected as the 985th pick in the 33rd round by the Cincinnati Reds.
Hawkeye recruits Daniel Perry and Chris Comito, Jr., were both selected in the top 15 rounds. Perry, an infielder from Susanville, California, was taken with the 392nd pick in the 13th round by the Toronto Blue Jays, while Comito, Jr., was selected and will sign with the Chicago White Sox after being taken with the 442nd pick in the 15th round.
Iowa had five total players selected from the 2015 team that won 41 games and earned an at-large bid into the NCAA Tournament. The five draft picks are the most for the program since 1992 and are tied for the most selections in a single season in school history.
Hibbing was picked by the Pirates for a second time in his career (2011, 42nd round, 1,262 pick) after enjoying a breakout senior season. The Lindenhurst, Illinois, native earned second-team All-Big Ten honors after posting a 4-1 record with a 1.57 ERA. He allowed nine runs on 30 hits over 51 2/3 innings, finishing with a 47 strikeouts to five walks.
Hibbing capped off his career by being named the NCAA Springfield Regional Most Outstanding Player, while also being selected to the all-tournament team. The right-hander finished his Iowa career with an 11-9 record and a 3.68 ERA with 17 saves — the fourth-most all-time — in school-record 82 appearances.
Toole, an outfielder from Council Bluffs, Iowa, was a three-time All-Big Ten selection during his Hawkeye career. As a senior, he earned second-team All-Big Ten honors after hitting .306 with 42 runs, 28 RBIs, and 27 steals. Toole finished his Iowa career ranking first in singles (207), third in hits (239), fourth in steals (70), and sixth in games (200).
Goodman, an infielder/outfielder from Apple Valley, Minnesota, started 57 games as a senior, finishing with a .262 batting average with a team-high 19 extra base hits (11 doubles, five triples, and three home runs) to go along with 37 runs and 26 RBIs. Goodman played in 194 games as a Hawkeye, hitting .262 with 105 runs and 83 RBIs.
Peyton, a right-handed pitcher/first baseman from Grimes, Iowa, was a third-team NCBWA All-American as a junior. He went 7-4 with a 3.03 ERA on the mound, logging 95 innings, where he had 75 strikeouts against 24 walks. Peyton was also the team's top hitter, posting a .337 average with 31 runs and 31 RBIs.
Peyton will have the option to sign with the Reds or return for his senior season, while Perry will have the choice to sign a professional contract with the Blue Jays or bypass the draft and join the Hawkeyes as a freshman for the 2016 season.