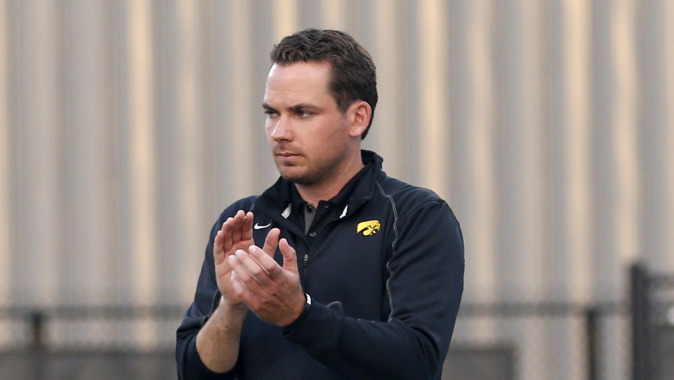 July 20, 2015
Editor's Note: The following first appeared in the University of Iowa's Hawk Talk Daily, an e-newsletter that offers a daily look at the Iowa Hawkeyes, delivered free each morning to thousands of fans of the Hawkeyes worldwide. To receive daily news from the Iowa Hawkeyes, sign up HERE.
By MEGAN ROWLEY
IOWA CITY, Iowa — Ross Wilson, a two-time NCAA All-American and three-time ITA national doubles champion at Ohio State, served as interim head coach of the University of Iowa men's tennis program in 2014-15. Last week the UI athletics administration removed the interim tag and Wilson was officially named the sixth men's tennis head coach in program history.
During his first season as head coach, Wilson guided a lineup comprised mostly of four freshmen to a ranking as high as 45th nationally.
The Hawkeyes won 14 matches, their highest total in 23 years, recorded two wins over ranked opponents, five wins against Big Ten foes, and advanced to the second round of the Big Ten Tournament.
Under Wilson's guidance, Matt Hagan and Dominic Patrick won the 2014 Big Ten top-flight doubles championship. It marked the second time in school history, and first time since 1958, that an Iowa doubles team won the conference's top-flight championships. Hagan, a first team All-Big Ten honorees, also became just the third Hawkeye, and first since 1999, to reach the ITA Regional semifinals in singles.
Three freshmen shared the team lead in singles victories in fall and spring competition. Jake Jacoby, Josh Silverstein and Lefteris Theodorou all recorded 20 singles wins. Silverstein also advanced to semifinals of the Big Ten Indoor Singles Championships.
Wilson recently sat down with hawkeyesports.com to reflect on the 2014 season and his long-term goals for the program.
Last year was your second on staff, but first as head coach, how did your first season as head coach go for you personally and professionally?
"Professionally, it went great. We had a lot of changes at the beginning of fall with Coach Houghton retiring, me stepping in as interim head coach, and Ty Schaub joining the staff as assistant coach. Fortunately, with the work put in the previous year the transition went smoothly and we had a great season. We started four to six freshmen and they all really stepped up and got better throughout the season. We have four new guys coming in this fall, so there is a lot to build on for the future. Everything has gone smoothly and now our program is set in motion. Everyone knows the expectations and where we want to go as a program. Personally, I have been very lucky at the three places I have coached. At Kenyon College I was doing the recruiting, the on-court training, and helping with the schedule. When I coached at San Diego I was in charge of recruiting and was asked to run the team for a few weeks while the coach handled a personal issue. When I came to Iowa, Coach Houghton exposed me to more budget and administrative duties, so when it came time to step in as head coach it was exciting for me personally because I was prepared. This has been my goal all along, to be a head coach in the Big Ten."
You built a lot of momentum in your first season, how do you maintain that momentum in the offseason heading into Year 2?
"The biggest thing is that we have four returning guys on campus and they are practicing twice a day, playing tournaments every single weekend. They have bought into us trying to become a top 25 program. The only guy that isn't here this summer is Lefteris Theodorou, and he is playing professional events and finding success this summer. With our sport there is no time off. You have to play and keep your rhythm. You have to continue playing tournaments because it is the only way you can get better. If we can continue to do that all summer we will be ready for the fall. That's when it is important to have guys that can beat nationally-ranked players. We can get our guys in the national rankings, and that will put us in position to get into the NCAA tournament next spring."
What is the personality of the team and how has it changed since the beginning of the season?
"The guys are energetic and excited to be here. We did a great job of selling Iowa and selling our vision. I just hope guys get more mature. You bring in freshmen that are 18-years-old and they are wide eyed with a lot of things going on around campus. I want to see them become mature on the court. Competitively, they need to figure out their game style and how to compete every single point. They have to respect their opponents and get used to the level of play. The guys here are bigger, stronger, and faster. More balls are going to come back at you, and they have to figure out that. Also, they need to realize what it takes to be good at this level, how much time we put in on the courts, and doing it consecutive months without really taking any time off. This is going to be a lifestyle. They have done a great job transitioning into having that mindset."
Is there anything you know about this job now that you didn't know 12 months ago?
"It is not all tennis. As an assistant, you are able to be on the court and practice with the guys and recruit a lot. As a head coach, it is a lot of sitting in administrative meetings and doing a lot more paperwork. It is more work and not as many hours in the day, but it is a lot of fun. Also, you have to figure out what the role of the assistant is going to be and what I am going to do. I want an assistant to be on the court with the guys the whole time, working with them individually, and recruiting all the time. We recruit worldwide, so there are a lot of players to get to know and evaluate. Ty has been doing a great job with that. We also want to get the best teams on our schedule, so a lot of time is spent trying to make the travel work. All of those things are necessary if we're going to be successful."
What are your goals going into this next season?
"Our goals are the same every year. We want to make the NCAA tournament. I think we will be on the bubble of doing that this year. Our goal last year was to finish in the top 75 in the national rankings, which we had not done in five years. This year our goal is to finish anywhere between 40 and 50 in the country and be in the top five in the Big Ten."
What are your long-term goals for the program?
"We want to build a program that is sustainable. We want to be ranked in the top 25, make the NCAA tournament, and be top five in the Big Ten. I think the biggest thing is recruiting. Our goal every year is to recruit players who love tennis, want a great education, want to work and put in the time to get better, and want to be professionals after college. If we can find those types of players, all of our other goals will all take care of themselves."
Year 1 always has a unique set of challenges, what do you think will present the biggest challenge in Year 2?
"We have nine players on the team, including four newcomers, so there is going to be a lot of competition. This year's team is a lot deeper than last year. There are going to be nine guys fighting for six spots in singles, six spots in doubles, and guys know that nothing is promised no matter what they did the year before. Every day competition and practice sets are going to be pretty heated. Guys are going to make each other better from that. Dealing with egos, dealing with expectations, that's always the biggest thing. We need to make sure we are dealing with the players expectations in the right way and that they have a realistic view of what they need to be doing to make improvements and move forward."
How do you keep your athletes motivated year round — preseason, regular season, offseason?
"It is pretty easy for us because in the fall — even though they are all individual tournaments — because if you want to have a national ranking and have a chance to make the NCAA tournament in singles or doubles you have to come up with big wins over good players. We play the biggest tournaments we can, including the ITA All-American, which is the first big national tournament of the year, and we play our ITA regional tournaments. If you play those tournaments and are able to win a couple rounds, you will probably find yourself in the national rankings and give yourself a chance to make the NCAA tournament. The guys on the team want to make the NCAA tournament and it is all about getting 10 quality wins on your record, which makes the fall season a great chance for them to get a head start."
What are the expectations for your returning athletes? What do you need from them to have another successful season?
"We need leadership. Last year the guys worked hard and bought into the system. It worked well but I thought we were lacking leadership. This year, Dominic Patrick is our senior and he has been with me for three years. I am going to look to him to lead with intensity in practice and in matches. It is a big task, but the sophomores coming back — Jake Jacoby, Josh Silverstein, Lefteris Theodorou — those guys have done a great job of working hard and buying into what we are trying to create as a student-athlete at Iowa. They need to step up and lead by showing the young guys how to work and what the expectations are on an hour-to-hour basis here at Iowa."