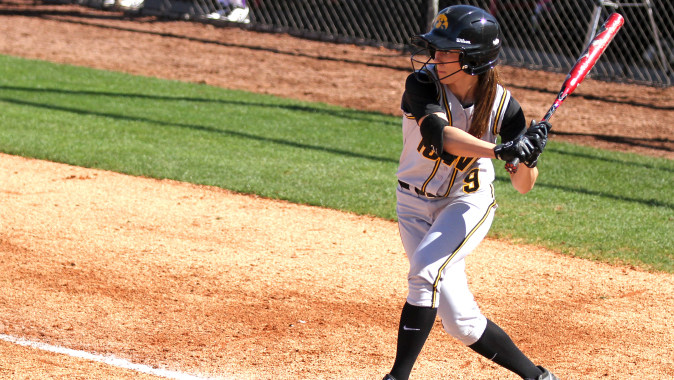 July 23, 2015
FORT DODGE, Iowa — University of Iowa graduate Johnnie Dowling will be inducted into the Iowa Girls High School Athletic Union (IGHSAU) Hall of Fame on Friday. The ceremony will take place between the Class 4A and 5A championship games at Rogers Sports Complex in Fort Dodge, Iowa.
"I am extremely excited and honored," said Dowling. "Some of the best players that have played in Iowa are in the Hall of Fame. To think that I stand right along with them is a huge honor and accomplishment."
Dowling played for West Des Moines Valley from 2005-09 under the direction of Tom Bakey. She was a four-time first team all-state selection, earning elite team honors as a sophomore, junior and senior. The Des Moines, Iowa, native was named the Class 4A Player of the Year as a senior and Offensive Player of the Year as junior. Dowling helped the Tigers to three state titles and a 13-2 record in the state tournament. At the plate, Dowling hit a bolstering .428 with 27 career home runs and 151 career RBIs.
"This honor has a lot to do with the program that I was a part of," Dowling said. "I don't think I would have received this honor without my coach, Tom Bakey, and my teammates that I grew up playing with."
Dowling continued her success at Iowa in the outfield, starting 194-of-200 career games played from 2010-13. She was a two-time All-Big Ten selection (2012 and 2013), and a three-time Academic All-Big Ten nominee (2011, 2012, and 2013). Dowling recorded a .349 batting average as a senior, scoring a team-high 46 runs and stealing 20 bases. Her 120 career runs scored ranks ninth in program history, while her 53 career stolen bases ranks 10th.
"Ever since I was little I wanted to go to the University of Iowa and be a Hawkeye," added Dowling. "I think playing for Valley gave me the opportunity to go play at Iowa. It means everything to be able to represent both Valley High School and the University of Iowa in the Hall of Fame."
Dowling will join 19 Hawkeyes in the IGHSAU Hall of Fame.
Name, High School (HOF Class)
Ann Coughenour, Kingsley-Pierson (1990)
Cara Coughenour, Kingsley-Pierson (1994)
Marty Pump, Rockford (1995)
Diana Repp, Fairfield (1996)
Carol Bruggeman, Charter Oak (1997)
Beth Kirchner, Sioux City North (1998)
Lea Twigg, North Scott (1999)
Kari Knopf, Dowling Catholic (2000)
Christy Hebert, CR Jefferson (2002)
Cherie Andersen, Ankeny (2004)
Katie Boney, Burlington (2006)
Kristin Johnson, CR Jefferson (2007)
Amber Morrow, Ottumwa (2007)
Lisa Birocci, Des Moines Lincoln (2007)
Mindy Heidgerken, North Scott (2008)
Stephanie Ackerson, Dowling Catholic (2009)
Natalie Johnson, Burlington (2009)
Katie Brown, Spirit Lake (2011)
Quinn Morelock, Solon (2011)
Johnnie Dowling, West Des Moines Valley (2015)