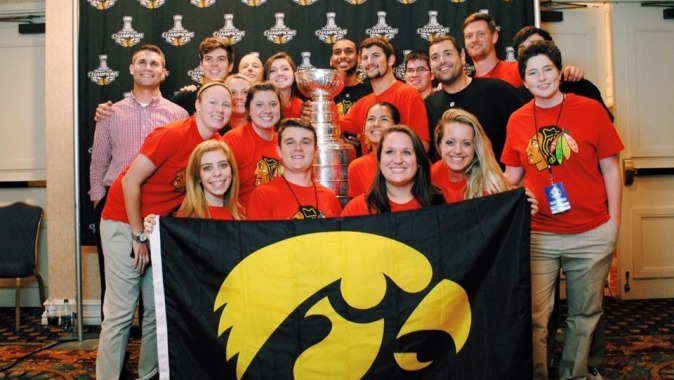 August 12, 2015
Editor's Note: The following first appeared in the University of Iowa's Hawk Talk Daily, an e-newsletter that offers a daily look at the Iowa Hawkeyes, delivered free each morning to thousands of fans of the Hawkeyes worldwide. To receive daily news from the Iowa Hawkeyes, sign up HERE.
By BRANDEE BRITT
IOWA CITY, Iowa — University of Iowa softball junior Kaitlyn Mullarkey met a few new friends during her summer course — one of them goes by the name of Lord Stanley.
The Park Ridge, Illinois, native was one of 18 UI students selected to participate in the Chicago Sports Business Practicum led by sports management lecturer Dan Matheson. The three-week course gave students the opportunity to work with executives from the 2015 Stanley Cup Champion Chicago Blackhawks.
"It was cool to see all of the things that go into running a sports organization outside of coaching and the team," said Mullarkey. "I'm a big Blackhawks fan, so touching the cup was pretty incredible. I've seen the cup before, but that was the first time I was able to touch it."
This year's visit was the second of its kind for the practicum that is unique to the University of Iowa. The idea was created by Matheson and implemented with the help of UI alum and current senior director of new media and creative services for the Blackhawks, Adam Kempenaar.
"I reached out to Adam a couple years ago and suggested the idea," said Matheson. "He was intrigued. It developed through Adam's interest in helping support the University of Iowa, and my interest in taking a group of students to Chicago."
After spending a week working on a marketing research project for the Waterloo Bucks, the practicum moved to Chicago. Upon arrival the students met with the Blackhawks' front office and split up into project groups. Mullarkey paired up with community relations manager Ashley Hinton where she assisted with fan mail and came up with ideas to help improve Chicago's current system.
"It was nice to see the stuff we had been doing in class actually happen," Mullarkey said. "I got to apply everything I had been learning in my classes to a real-life situation.
"I also learned that I could survive in a work setting. I haven't been able to have a job or an internship before this experience. It showed me that it is something I'm interested in, and it's something that I could do."
With rigorous classroom and competition schedules, it is not uncommon for student-athletes to graduate without internship experience, something Matheson hopes to improve by offering practicum courses.
"One of the real benefits I see out of this course is that we can offer student-athletes the chance to get almost everything they would get out of a semester long internship in a condensed time period," he said. "They generally don't get the opportunities during the rest of the year to perform the internships that they need to be competitive after they graduate."
Many students are still reaping the rewards of participating in the practicum. Several were invited by members of Chicago's front office to participate in meetings after the practicum concluded, and one student recently accepted a full-time internship with the team.
"I was proud of the students and the way they embraced the opportunity," said Matheson. "Our success and being invited back year after year depends on the commitment of the students who are in it. They did a great job of representing themselves and the University of Iowa."
For Mullarkey, participating in the practicum provided her with more than just real-world experience.
"Being able to do something like this with other classmates from Iowa was amazing," said Mullarkey. "I knew one person going into the trip, so it was cool to build relationships with these people while working on real projects."