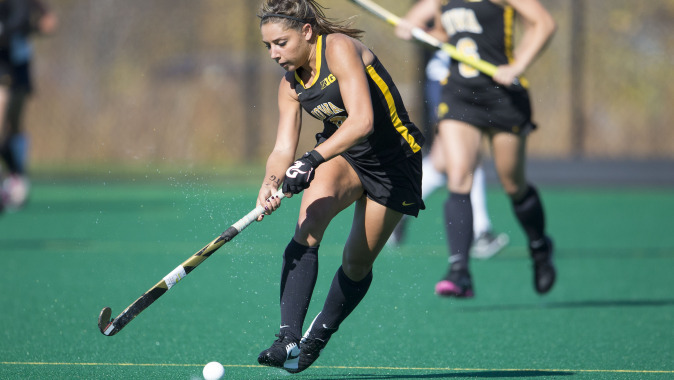 Aug. 21, 2015
Media Day Photo Gallery

| Scrimmage Photo Gallery

Editor's Note: The following first appeared in the University of Iowa's Hawk Talk Daily, an e-newsletter that offers a daily look at the Iowa Hawkeyes, delivered free each morning to thousands of fans of the Hawkeyes worldwide. To receive daily news from the Iowa Hawkeyes, sign up HERE.
By JAMES ALLAN
hawkeyesports.com
IOWA CITY, Iowa — Senior Natalie Cafone won't be adding to her 48 career goals during the 2015 University of Iowa field hockey season, but she'll be leading the Hawkeyes off the field.
The 2014 Big Ten Offensive Player of the Year and first-team All-American will redshirt during the 2015 season because of injury. Cafone dislocated her shoulder last November and re-injured it last spring to force her hand.
"When it happened a second time, I had a feeling this would be the situation I would be in," said Cafone. "(This was the situation that was) handed to me, so I am going to do what I can to help this team every day."
UI head coach Lisa Cellucci and Cafone made the decision to redshirt at the end of June. The decision was made public Thursday during the Hawkeyes' media day at Grant Field.
"It's unfortunate for the team, and it's going to be big shoes for everyone to fill," said Cellucci. "We're counting on Natalie's leadership in a different way. She's committed to helping this team move forward and to be ready to go in the fall of 2016."
With a roster featuring 12 underclassmen, Cafone's off-the-field presence will be important. She can be a little bit of everything — a mentor, cheerleader, or confidant — even though she won't be physically competing.
"Since I can't be on the field, I will try to lead them off the field and help them get better each day," said Cafone, who led the Big Ten and ranked fourth nationally in goals per game (1.00) as a junior.
"It is different because I am not going to be out there with them, but I am still going to say and do what I can to help them. (We have) a lot of good leaders, so I know we'll be fine and they'll lead each other."
The loss of Cafone's 28 goals and 42 points won't be replaced. It means the light will shine brighter on returning All-American Stephanie Norlander. Iowa's five other upperclassmen — seniors Liz Leh and Isabella Licciardello, and juniors Chandler Ackers, Alexandra Pecora, and Sophie Plasteras — will all need to step up.
Ackers knows Cafone isn't a player that can be replaced, but says the forward's presence is still felt.
"She's more of a contributor on the sidelines, her voice is always heard," said Ackers. "We're going to miss her, but she's still on the team and is helping us every day."
Without Cafone, Iowa's makeup and style of play will undoubtedly be different in 2015. The opportunity for the underclassmen to play and contribute early can be a major benefit for the program in years to come, but the Hawkeyes are committed to winning in 2015.
"We're not conceding the season because Natalie isn't available or because we're young," said Cellucci. "It will test our character every week, but depending on the work this team puts in every week, that will show how close we're going to get to accomplishing our goals."
The Hawkeyes will play a pair of road exhibition games this weekend in Kentucky, playing at Louisville on Aug. 22 and Indiana on Aug. 23. Iowa opens the regular season with the ACC/Big Ten Tournament, facing Wake Forest on Aug. 29 in Ann Arbor, Michigan.