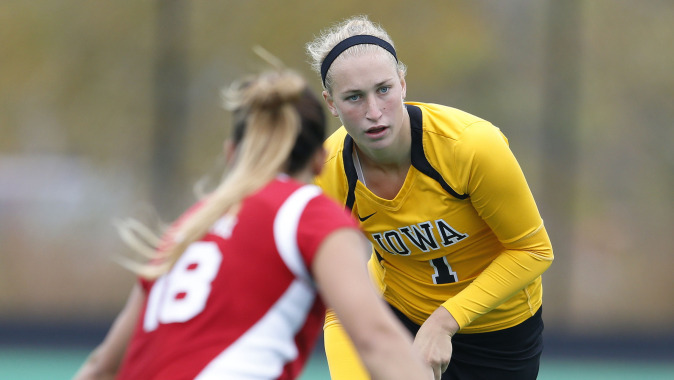 Aug. 30, 2015
ANN ARBOR, Mich. — The 17th-ranked University of Iowa field hockey team fell, 2-1, to 2nd-ranked North Carolina in Sunday's ACC/Big Ten Challenge matchup, hosted by the University of Michigan. The Hawkeyes move to 1-1 overall in the early portion of the season.
North Carolina led 2-0 heading into the half, following goals from Nina Notman and Emily Wold. Notman's came in the third minute of gameplay as she secured a send in by Eva van't Hoog from the corner and rocketed it past a crowd of Hawkeye defenders and junior goalkeeper Alexandra Pecora. Wold's goal came with a 1:09 remaining in the half after carrying the ball from the left side of the field and flicking it in.
Down 2-0, the Hawkeyes wasted little time to get on the board in the second half as Chandler Ackers scored her first goal of the season off of Iowa's lone penalty corner of the day in the 37th minute. The goal was originally called off for being too high, but after review the call was reversed. Freshman Makenna Grewe and junior Stephanie Norlander were both credited with the assist.
The Hawkeyes had a chance to tie the game in the 50th minute when Grewe sent a pass to a driving Mallory Lefkowitz, but the sophomore's shot bounced just to the right of the goal, keeping it 2-1 in favor of the Tar Heels.
The Hawkeyes remain on the road next week when they head to Harrisonburg, Virginia, for a pair of matchups. Iowa faces off against Richmond on Sept. 4 before taking on James Madison on Sept. 6.