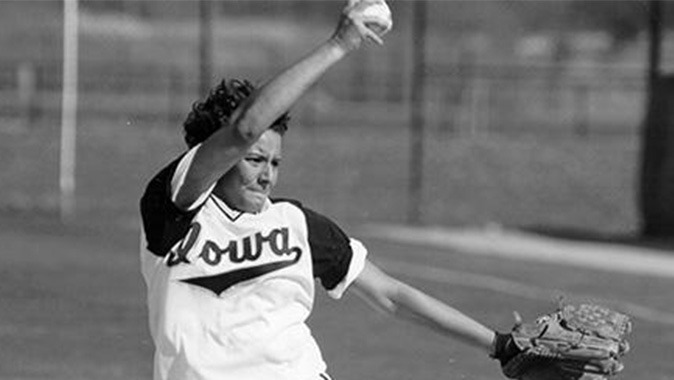 Aug. 31, 2015
Editor's Note: The following first appeared in the University of Iowa's Hawk Talk Daily, an e-newsletter that offers a daily look at the Iowa Hawkeyes, delivered free each morning to thousands of fans of the Hawkeyes worldwide. To receive daily news from the Iowa Hawkeyes, sign up HERE.

By JAMES ALLAN
hawkeyesports.com

IOWA CITY, Iowa — Karen Jackson's induction into the National Iowa Varsity Athletics Hall of Fame is as much for her family and teammates as it is for herself.

The former University of Iowa softball standout is one of seven 2015 Hall of Fame inductees, along with Don Norton (football), Neil Schmitt (men's gymnastics), Lori Cole (women's gymnastics), Jim Heffernan (wrestling), Tom Roemer (men's swimming and diving), and Bill Brashier (football coach).

"I was caught off guard (when I received the call)," said Jackson, who played for the Hawkeyes from 1991-94. "I am excited for the program, this is a program recognition. I am also excited for my dad, he helped me so much growing up."

Jackson got started in softball as an 8-year-old when her father, Jim, signed her up for a local league called the Roseville Bobby Sox. It was during those years when the sport became second nature.

After a high school and competitive ASA career in northern California, Jackson learned of the University of Iowa through her pitching coach, Chuck Cheeks, who had a connection with UI head coach Gayle Blevins.

"(Chuck) spoke highly of coach Blevins, and through that relationship, she came out and saw me a few times," said Jackson. "When I went for my official visit, I fell in love with the campus and community."

Jackson arrived in the Midwest as an 18-year-old with something to prove.

"I remember the first practice," said Jackson. "I wanted to prove to everyone that I deserved to be there and that I could make a difference. I wanted to win regardless of anything else."

The Hawkeyes won 53 games in 1991 during Jackson's freshman season. She proved herself in the circle, going 28-4 with a 0.35 ERA with 19 shutouts and 28 complete games. She had 186 strikeouts in 222 innings and earned second-team All-America, Big Ten Player of the Year, and Big Ten Freshman of the Year.

More important to Jackson than the individual accolades was the team's success. Iowa advanced to the NCAA Tournament for the second time in school history and hosted a regional in Iowa City.

"I wasn't focused on awards," she said. "At the end of the year when my pitching coach called and told me I had been selected as an All-American, to me the phrase All-American meant you were the All-American kid next door.

"I was just trying to prove I could play. We had a great team. Terri (McFarland) was a junior pitcher and was a good leader. She was someone I could follow."

During her four-year career, Jackson helped the Hawkeyes win 161 games and play in two NCAA Tournaments. She finished as the school record holder in wins (98), ERA (0.65), innings (942 1/3), strikeouts (809), and complete games (109). Jackson still holds school records in ERA (career and season) and shutouts in a season.

"I am proud of my accomplishments," said Jackson, who was a three-time All-America and three-time All-Big Ten selection. "Those things don't happen without good teammates, leadership, having a great outfield… people to help you.

"I am the type of person that thinks, 'Could I have done better? Could I have done more to help the team be better?' I am happy with my accomplishments, and am proud of how Terri McFarland and I helped build the foundation of the program. We were at the forefront of building the program to what it has become."

When looking back on her career, Jackson doesn't recall statistics or honors, but fondly remembers the relationships she developed in Iowa City.

"Besides my parents, coach Blevins is the most influential person in my life," she said. "She has guided me even after I graduated and helped me in so many ways both on and off the field. She shaped who I am today."

After wrapping up her playing career, Jackson joined Blevins' coaching staff in 1994 and 1995, helping the Hawkeyes to two Women's College World Series berths. Jackson missed competing, so she worked her way back to the highest level, playing professional softball for the Carolina Diamonds from 1997-99.

Following a five-year coaching stint at Louisville, Jackson entered the private sector, instructing at an indoor facility in Louisville. She moved back to Roseville, California, and eventually crossed an item off her bucket list: opening All-In Training in 2012 — an indoor training facility where she implements Blevins' teachings on a daily basis.

"I work with all ranges (of players) — highly competitive kids, middle of the road, and rec ball kids that just want to be able to throw strikes," she said. "That's why I try to focus on life skills like coach Blevins instilled in me. Knowing only a small percentage will go on and play at the Division I level, the rest are going to work in the real world. I want to help prepare them."

Since learning of her Hall of Fame honor, Jackson has enjoyed taking the stroll down memory lane, going through memory books and old pictures. She is looking forward to taking in an Iowa football game, being in the Iowa City community again, and is grateful to be able to share the honor with her father.

"I am so excited for my dad to be (at the ceremony)," she said. "He is the reason I am here doing what I do. Since I was eight, he took me out to the field, worked with me, kept pushing me, worked nights, and drove me to tournaments.

"He sacrificed so I could reach for my goals. This is an honor for him and what he did."

For Jackson, the Hall of Fame is for her family and teammates.