Box Score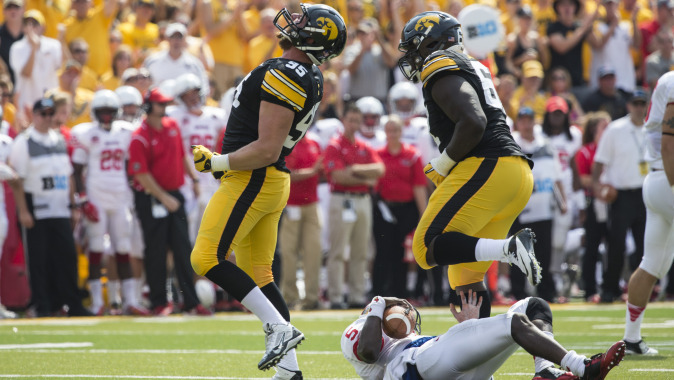 Sept. 5, 2015
Box Score | Notes | Photo Gallery 1

| Photo Gallery 2

By JAMES ALLAN
hawkeyesports.com
IOWA CITY, Iowa — The University of Iowa football team opened the 2015 season with a dominating 31-14 victory over Illinois State on Saturday afternoon inside Kinnick Stadium.
The Hawkeyes nearly doubled up the Redbirds in total offense, finishing with a 431-231 advantage. Iowa eclipsed the 200-yard mark on the ground, finishing with 210 yards on 44 carries, while finishing with 221 yards through the air.
Iowa's defense stifled the 2014 FCS runner-up, limiting the Redbirds to 79 yards through the first three quarters. Illinois State scored all 14 of its points in the fourth quarter, where it nearly doubled its offensive output, piling up 152 yards.
"I am pleased with the team today," said UI head coach Kirk Ferentz. "We talked in January about it's a new season, new year, and talk to them last night. This is the first chapter in that story.
"When we showed up on the field, the guys were ready, so I am happy about that. We saw a lot of improvement in a lot of different areas and the guys played hard. We were more aggressive in areas than we have been, particularly on the perimeter offensively and defensively."
Junior LeShun Daniels, Jr., carried Iowa's rushing attack with career-highs in yards (123) and carries (26). Junior C.J. Beathard finished 15-of-24 for 211 yards with a touchdown. Senior Jordan Canzeri had four catches for 90 yards, while junior Matt VandeBerg had six receptions for 59 yards and a touchdown.
"I was pleased with both of our backs," said Ferentz. "They complement each other well and hopefully we can keep building off that."
The Hawkeyes' defense had five sacks — all in the first half — and 10 tackles for loss. Senior linebacker Cole Fisher led the unit with a career-high eight tackles; while senior defensive ends Drew Ott (two sacks) and Nate Meier (three tackles for loss) combined for five tackles for loss.
Illinois State back-up quarterback Jake Kolbe finished 11-of-15 for 147 yards and two touchdowns. Starter Tre Roberson was 5-of-12 for 49 yards, while rushing 12 times for -12 yards. Running back Marshaun Coprich had 13 carries for 32 yards.
1st
2nd
3rd
4th
Final
0
0
0
14
14
7
10
7
7
31
Stat Comparisons
First Downs
14
22
Rushing Att.-Yds
28-35
44-210
Passing Yds
196
221
Passing (C-A-I)
16-27-0
16-25-0
Total Offense
55-231
69-431
Punts-Avg.
5-34.2
2-47.0
Fumbles-Lost
1-0
1-1
Penalties-Yds
2-10
5-51
Time of Possession
27:32
32:28
3rd-Down Conversions
7-of-14
6-of-12
4th-Down Conversions
0-of-1
2-of-3
Iowa Statistical Leaders
Passing
CMP
ATT
YDs
TD
C.J. Beathard
15
24
211
1
Rushing
CAR
YDs
AVG
TD
Leshun Daniels, Jr.
26
123
4.7
0
Receiving
REC
YDs
AVG
TD
Jordan Canzeri
4
90
22.5
0
Defense
S-A
TOTAL
SACKS
INT
Cole Fisher
4-4
8
0
0
Illinois State Statistical Leaders
Passing
CMP
ATT
YDs
TD
Jake Kolbe
11
15
147
2
Rushing
CAR
YDs
AVG
TD
Marshaun Coprich
13
32
2.5
0
Receiving
REC
YDs
AVG
TD
Anthony Warren
3
58
19.3
1
Defense
S-A
TOTAL
SACKS
INT
Drashane Glass
4-4
8
0
0
After taking a 17-0 lead into the break, Iowa kept its foot on the gas in the second half. On its second possession of the half, Iowa used a 13-play, 57-yard scoring drive to make it a four possession game. Daniels was the bell cow, rushing seven times for 22 yards on the series.
Beathard kept the drive alive, converting a third-and-1 from the 12 with a quarterback sneak before connecting with VandeBerg for a nine-yard touchdown, stretching Iowa's lead to 24-0.
Iowa imposed its will on its last scoring drive with a 10-play, 66-yard scoring drive that included nine rushes on its first possession of the fourth quarter. Daniels rushed 14 yards on the first play to move the ball near midfield and go over the 100-yard mark for the first time in his career.
Following a 20-yard completion to Jacob Hillyerto the ISU 32, four-straight Daniels runs moved Iowa to the 6 before Beathard scored on a quarterback sneak from 1-yard out two plays later, pushing the Hawkeyes' lead to 31-0.
With Kolbe under center, Illinois State scored touchdowns on consecutive series to avoid the shutout. The Redbirds used with a five-play, 73-yard scoring drive. On third-and-7, Kolbe connected with Christian Gibbs for a 52-yard gain into the red zone. Two plays later, Kolbe tossed a 1-yard touchdown pass to Brady Tibbits, slipping out of the backfield.
Following an Iowa turnover on an Akrum Wadley fumble, the Redbirds marched 52 yards on eight plays for a second straight scoring drive. Kolbe completed five passes on the series, including a 22-yard strike to Anthony Warrum to make the score 31-14 with 49 seconds remaining.
The Hawkeyes dominated the first half, outgaining Illinois State, 268-36. Iowa had 12 first downs on offense, but the defense was the story, holding the Redbirds without a rushing yard, while accumulating five sacks and nine tackles for loss.
After receiving the opening kickoff, Beathard led the Hawkeyes on a 13-play, 81-yard scoring drive. Daniels, Jr., used a 27-yard run to move Iowa into Redbird territory. On fourth-and-2 from the 14, Beathard found Tevaun Smith on a quick slant for a first down before the Hawkeyes spread the defense out and Beathard scored on a quarterback draw to give Iowa a 7-0 lead with 7:31 left in the first quarter.
Illinois State moved the chains to the tune of a pair of first downs on its first possession before Trey Roberson's 42-yard pooch punt on fourth-and-4 was downed at the Iowa 1, setting up a record-breaking Hawkeye drive.
Iowa tied a school record, using a 5 1/2 minute scoring drive, which covered 99 yards and spanned 12 plays. After a sneak moved Iowa from the shadow of its goal line, Daniels, Jr., broke through for a 10-yard gain to the Iowa 13.
A pair of Beathard completions — one for 18 yard to Hillyer and a 21-yard shovel pass to Canzeri — moved Iowa into Redbird territory. On third-and-10 from the Illinois State 48, Beathard eluded pressure before connecting with VandeBerg for 17 yards to the 31. Iowa moved into the red zone on a second 17-yard pass to VandeBerg on a swing pass before Jordan Canzeri scored from five yards out to give the Hawkeyes a 14-0 lead.
Following four straight three-and-outs, Illinois State moved the chains for the first time since the opening drive, taking advantage of a pair of Iowa pass interference calls to move deep into Hawkeye territory. Iowa's defense held and kept the Redbirds off the scoreboard when sophomore Nathan Bazata blocked a Sean Slattery field goal attempt, giving Iowa possession with 37 seconds to play.
On first-and-10 from its own 33, Beathard connected with Canzeri for a 51-yard gain on a screen pass to the ISU 13. Following a pair of incompletions and a personal foul, Beathard found VandeBerg for 9 yards on third-and-25, setting up Marshall Koehn's 40-yard field goal as time expired. Iowa led 17-0 at the break.
Iowa (1-0) returns to action Sept. 12, traveling to Ames, Iowa, for an Iowa Corn Cy-Hawk Series showdown against Iowa State. Game time is 3:45 p.m. (CT).
"We're going to enjoy this victory," said Ferentz. "We'll turn the page and study this game tomorrow. We'll share it with our players and close the door on it and get moving on to the next game."