Box Score
Final Stats | Notes | Photo Gallery

| USATSI Photo Gallery

| Postgame Quotes
By DARREN MILLER
hawkeyesports.com
AMES, Iowa —King and his court captured the jewel of traveling crowns Saturday, invading Jack Trice Stadium and bringing the Cy-Hawk Trophy back to shiny, new Stew and LeNore Hansen Football Performance Center in Iowa City.
And the Hawkeyes did it playing with heaviness in the heart. On Tuesday, University of Iowa great Tyler Sash passed away at the age of 27. A native Iowan, Sash thrived on and in the Iowa Corn Cy-Hawk Series against rival Iowa State. Every Iowa player wore Sash's No. 9 on the left side of their helmet during the game.
Sash would have flashed his trademark smile with this outcome.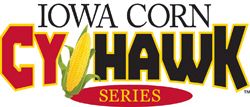 Trailing 17-10 at halftime, the Hawkeyes ground out a game-tying touchdown in the third quarter, then erupted for 14 points in the final 2 minutes, 14 seconds to come away with a 31-17 victory over Iowa State.
"People outside the state don't know how competitive this (rivalry) is," UI head coach Kirk Ferentz said. "I'm proud of our team; I thought they really grew in the second half. We got tested, (Iowa State) played a great first half, our guys rallied."
Junior cornerback/punt returner Desmond King struck twice in the final 6 ½ minutes to put the Hawkeyes in position to take the lead and then seal victory. His 34-yard punt return put the ball at midfield with 6:08 left and set up a game-winning 25-yard touchdown pass from junior quarterback C.J. Beathard to junior wide receiver Riley McCarron four minutes later. It was McCarron's first catch of the season.
On the next Cyclone series, King stepped in front of a pass from Sam B. Richardson that was intended for Jauan Wesley that essentially sealed the final outcome.
"That was a big, big play," Ferentz said of King's punt return. "To get it (from the 16) out to midfield was big."
The Hawkeyes improved to 2-0 to start the season for the 11th time in the last 15 seasons. Iowa State is 1-1.
Every king needs good noblemen to succeed, and the Hawkeyes had sufficient contributions in a lot of places. Junior wide receiver Matt VandeBerg hauled in a career-high nine receptions for 114 yards (including a 48-yarder on third-and-21), senior running back Jordan Canzeri ran the ball 24 times for 124 yards and a touchdown, and Beathard completed 15-of-25 yards for 212 yards and two touchdowns.
1st
2nd
3rd
4th
Final
3
7
7
14
31
3
14
0
0
17
Stat Comparisons
First Downs
22
18
Rushing Attempts-Yards
45-260
27-63
Passing Yds
215
247
Passing (C-A-I)
15-25-0
19-35-1
Total Offense
70-475
62-310
Punts-Average
5-47.4
7-44.4
Fumbles-Lost
2-1
1-0
Penalties-Yards
6-50
4-45
Time of Possession
33:22
26:38
3rd-Down Conversions
7-of-14
4-of-14
4th-Down Conversions
1-of-1
0-of-1
Iowa State Statistical Leaders
Passing
CMP
ATT
YDs
TD
Sam B. Richardson
19
35
247
2
Rushing
CAR
YDs
AVG
TD
Trever Ryen
4
23
5.8
0
Receiving
REC
YDs
AVG
TD
Allen Lazard
7
71
10.1
0
Defense
S-A
TOTAL
SACKS
INT
Kamari Cotton-Moya
4-5
9
0
0
Beathard also ran the ball 10 times for 77 yards with gains of 57 and 44 yards. He was 10-of-13 for 159 yards and two touchdowns in the second half.
"The defense played lights out in the second half and kept us in the game," Beathard said. "We kept chipping away and fighting and it turned victorious for us."
Oh yes, the defense. In the second half, the Hawkeyes limited Iowa State to five rushing yards on 11 attempts, and 7-of-20 passing for 61 yards.
"It was a totally different defense in the second half and it started up front," Ferentz said. "You have to give credit to those guys — a guy like Parker Hessejumping in there for Drew (Ott) and did a great. Matt Nelson rotating in there. All the guys played well and we did a much better job in our coverage."
Defensive end Nate Meier and linebacker Josey Jewell led the Hawkeyes with seven tackles. King, Miles Taylor, and Jaleel Johnson added five apiece. Iowa sacked Richardson four times — one each by Meier, Johnson, Cole Fisher, and Ben Niemann.
Iowa finished the game with 475 yards compared to 310 by the Cyclones.
The Hawkeyes scored first on a 49-yard field goal by senior Marshall Koehn with 5:44 left in the first quarter. Iowa State answered 11 plays later, tying the score on a 37-yard field goal by Cole Netten. The Cyclones tacked on a touchdown to open the second quarter with Richardson finding Quentin Bundrage on a pass from 11 yards. Ott, the disruptive Hawkeye defensive end was sidelined with a game-ending elbow injury.
The Hawkeyes, playing from behind for the first time since the TaxSlayer Bowl, converted a 9-play, 93-yard drive to knot the score at 10 with 4:24 left before halftime. The drive started at the Iowa 7, and on the first play, Beathard was pressured out of his own end zone and lunged to the 1 before being sacked. The next play he broke a 44-yard scamper, giving the Hawkeyes room to breathe. Seven plays later, Beathard and senior Tevaun Smith hooked up for a 14-yard touchdown pass.
Iowa State answered with its own snazzy touchdown reception. On third-and-17 from Iowa's 29, Richardson found Wesley, who tipped the ball with his left hand before bringing it into his body for the score. The Hawkeyes pushed their way out of the shadow of its own end zone on its final drive of the first half, and again, a run by Beathard was a highlight. On second-and-10 from his own 13, Beathard picked up 57 yards to the Cyclone 30. After three more plays, the Hawkeyes ran the clock to 0:01 and lined up for a 40-yard field goal. For the second week in a row, the ball was snapped directly to Koehn, who sprinted to the left sideline for a 19-yard gain. Although he picked up a first down, the game clock expired with the ball on Iowa State's 3.
Iowa scored all 21 of the game's second-half points. The Hawkeyes tied it when Beathard completed a pass to Henry Krieger-Coble, who fumbled at Iowa State's 3 after a 29-yard gain. VandeBerg picked the fumble off the turf and dove into the end zone, tying the game, 17-17.
The go-ahead touchdown pass was from Beathard to McCarron from 25 yards.
"We ran that same play a couple times in the game where we didn't use a double move," Beathard said. "We decided to pump it, it was a great call by coach (Greg) Davis and we converted the touchdown. It was a great catch by Riley."
The final score was an 8-yard run by Canzeri after the King interception. It was redemption for Canzeri, who earlier in the quarter lost a fumble at Iowa State's 7. It is the third 100-yard rushing performance for Canzeri, who gained 165 at Purdue in 2013 and 120 against Tennessee in last seaosn's TaxSlayer Bowl.
Iowa returns to action Sept. 19 against Pittsburgh at 7 p.m. (CT). It will be the annual Black and Gold Spirit Game as well as America Needs Farmers Day inside Kinnick Stadium. To see whether you are asked to wear black or gold, click HERE.