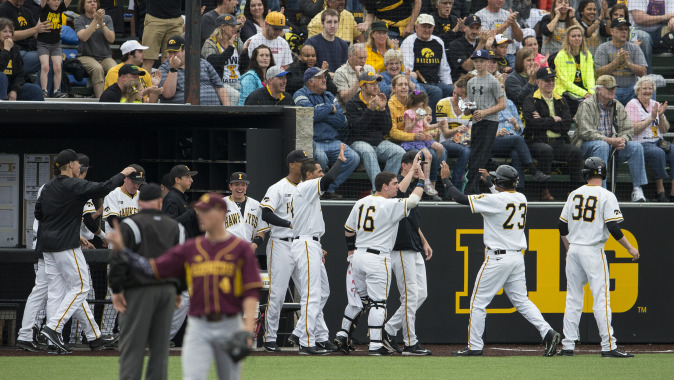 Sept. 15, 2015
IOWA CITY, Iowa — The University of Iowa baseball team will open its fall season Saturday, hosting the Ontario Blue Jays at 11:30 a.m. (CT) at Duane Banks Field. Admittance to the game is free of charge.
With the Hawkeye football team hosting Pittsburgh at 7 p.m. in Kinnick Stadium and the UI volleyball team hosting matches inside Carver-Hawkeye Arena throughout the day, parking will be at a premium.
Saturday's parking options include:
– Taking advantage of a free continuous shuttle at the Hawkeye Commuter Parking Lot. The shuttle will run from 8:30 a.m. to 7 p.m. and will drop off at the south entrance of Carver-Hawkeye Arena.
– Park in additional UI lots — the Finkbine Commuter Lot (Lot 65), the UI softball complex, or the track and field lot — for a $20 charge.
– Park in a non-university lot and pay the designated fee. (i.e. Vine, Wig and Pen).
Saturday's game is the first fall appearance for UI head coach Rick Heller and the 2016 Hawkeyes. Iowa is coming off a season where it went 41-18, finished as the Big Ten Conference regular season runner-up, and advanced to its first NCAA Regional appearance since 1990.
The Hawkeyes have four positional starters returning in 2016, including utility All-American Tyler Peyton and third-team All-Big Ten selection Nick Roscetti. On the mound, 2/3 of the weekend rotation returns. Iowa has 16 newcomers on the roster — a recruiting class that was ranked in the top 20 nationally by Perfect Game.