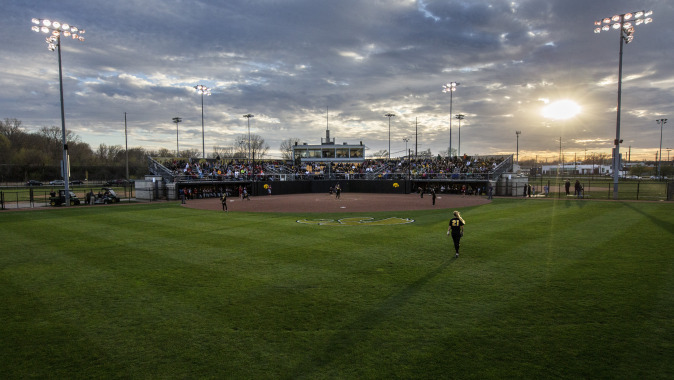 Sept. 23, 2015
Editor's Note: The following first appeared in the University of Iowa's Hawk Talk Daily, an e-newsletter that offers a daily look at the Iowa Hawkeyes, delivered free each morning to thousands of fans of the Hawkeyes worldwide. To receive daily news from the Iowa Hawkeyes, sign up HERE.
By JACK ROSSI
IOWA CITY, Iowa — Moving to college can be intimidating, but being the first student in the newest dorm can help ease the stress.
University of Iowa freshman softball player Erin Riding did just that. Riding became the first student since 1968, when Slater Residence Hall was built, to move into a new dorm when she entered the Mary Louise Petersen Residence Hall in mid-August.
"I found out mid-summer that I was going to be in the new dorm," Riding said. "I honestly could not have been more excited. When I found out, I immediately texted my roommate, Brooke Rozier, and we were both excited we were going to be in the new dorm."
Little did Riding know that while she was moving in, she was also making history.
"I didn't know I was the first student to move in," she said. "Once I got there people were telling me, and I was like 'Oh I just made history, that's pretty cool."
Riding was the first of about 6,000 students moving into the new dorm — the first residence hall to open on the UI campus in more than 40 years. One month later, Riding is still getting used to all the things her new home has to offer. "I like the open lounges… they have televisions in them," Riding said. "The rooms are more open, and the ceilings are tall, so I don't bump my head in the morning, which is nice because I'm pretty tall."
It has been smooth sailing for Riding and Rozier, who is also a freshman on the softball team. The resources available make school and softball easier for somebody with an already filled schedule.
Having a roommate that is a student-athlete is one of those perks that help both teammates on a daily basis.
"We motivate each other to get up early in the morning for workouts (the softball team practices at 7 a.m. each morning in the fall," said Riding. "It's a good environment to live with a teammate."
Meeting people is all a part of the freshman experience and being from another part of the country makes it even more fascinating for Riding.
"People are so welcoming," Riding said. "It's a cool way to meet friends that are from a different part of the country."
As for the softball team, the McKinney, Texas, native hopes contribute immediately on the mound for a team that is hungry for more pitchers.
"I've never been more excited to get on the field," Riding said. "College is going to be great and I'm expecting a great season."
The Hawkeyes are 2-0 during the fall season. Iowa hosts Kirkwood Community College on Friday at 5:30 p.m. (CT) in its final home contest of the fall season.