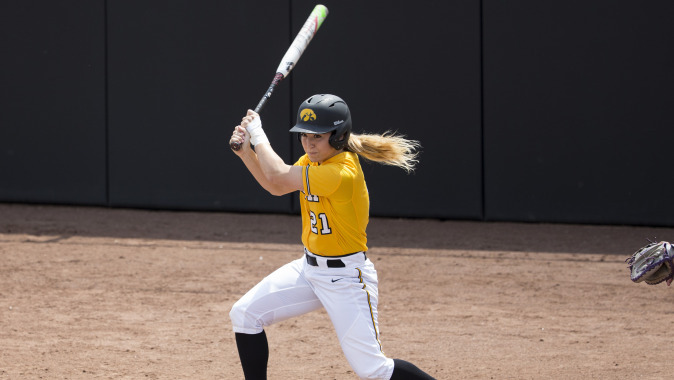 Sept. 29, 2015
Box Score

IOWA CITY, Iowa — The University of Iowa softball team improved to 3-0 in fall ball action with a 10-0 win over Kirkwood Community College on Friday, Sept. 25. The Hawkeyes registered 17 hits, while holding the Eagles to four.
The Hawkeyes got on the board early, scoring a run in the bottom of the first. Claire Fritsch led off the inning with a single. The junior stole second before advancing to third on a grounder to second. Redshirt junior Sammi Gyerman followed with a walk. With one out in the inning, Fritsch and Gyerman combined for the double steal to give Iowa a 1-0 lead.
After a scoreless second, the Hawkeyes crossed the plate again in the third. Junior Kaitlyn Mullarkey drew a walk to start the inning, and Gyerman moved her to third on a double to left center. Senior Erin Erickson capitalized on the RBI opportunity with a sacrifice fly to center, giving the Hawkeyes a 2-0 lead.
Iowa sent nine batters to the plate in the fourth, plating five runs on six hits. Sophomores Cheyenne Pratt, Katy Taylor and Sarah Kurtz, Fritsch, and Erickson all recorded singles, while Mullarkey added a double. Fritsch and Kurtz each notched steals in the inning.
The Hawkeyes added two more runs in the bottom of the fifth. Pratt reached on a walk before advancing to third on a fly ball to left. Kurtz followed with an RBI double. Two batters later, Gyerman sent an RBI single through the left side to give the Hawkeyes a 9-0 lead.
Following a scoreless seventh, the Hawkeyes added their final run in the bottom of the eighth. Gyerman started things off with a single before Erickson drew a walk. One pitch later, sophomore Allie Wood reached on an error that allowed Gyerman to score to seal the 10-0 victory.
Fritsch led the Iowa offense with four hits. She also led the team in runs scored (3) and stolen bases (3). Gyerman (3), Taylor (3) and Kurtz (3) recorded multiple-hit days for the Hawkeyes.
Four pitchers combined for the shutout, including freshmen Mallory Kilian and Erin Riding, redshirt junior Shayla Starkenburg, and junior Elizabeth Wiegand. Riding led the team with five strikeouts in three innings of work. The Hawkeyes were errorless in the field for the third straight game.
Iowa concludes the fall season at the Big 4 Classic in Des Moines, Iowa, this weekend. The Hawkeyes take on Northern Iowa at 11 a.m. (CT) and Drake at 2 p.m. on Oct. 3, before facing Iowa State at 10 a.m. on Oct. 4.