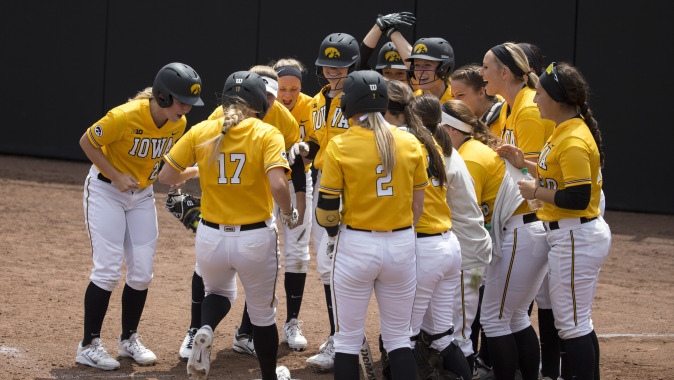 Oct. 1, 2015
IOWA CITY, Iowa — University of Iowa head softball coach Marla Looper announced the 2016 regular season schedule Thursday. The Hawkeyes will play 16 home games — 12 against Big Ten opponents — at Bob Pearl Field this season.
Iowa opens the season with five tournaments on the road, beginning with the Texas A&M Corpus Christi Tournament on Feb. 12-14. Iowa then competes in weekend tournaments hosted by University of Illinois-Chicago, Coastal Carolina, and Tulsa, before traveling to Honolulu, Hawaii, for the Rainbow Wahine Invitational on March 16-19.
The squad opens Big Ten play in Bloomington, Indiana, for a three-game series against the Hoosiers on March 25-27, before opening the home slate against Drake on March 30. Following a home series against Purdue (April 1-3), the Hawkeyes hit the road for a doubleheader at Nebraska (April 6) and a three-game series at Northwestern (April 8-10).
Iowa returns to Bob Pearl Field for a six-game home stand April 12-19. The Hawkeyes play a single game against Northern Iowa (April 12), before hosting Wisconsin for a three-game series (April 15-17). After a trip to Ames, Iowa, for a contest with Iowa Corn Cy-Hawk Series rival Iowa State on April 20, the Hawkeyes return home for a Big Ten series against Penn State (April 22-24).
Following a Big Ten road trip to Illinois on April 29-May 1, the Hawkeyes close out the Big Ten regular season at home against Minnesota on May 6-8. The 2016 Big Ten Tournament, hosted by Penn State, is scheduled for May 12-14.
The Hawkeyes compiled a 19-40 overall record and an 8-15 mark in Big Ten conference play in 2015. Iowa returns 17 student-athletes and adds five newcomers to its roster. To view the complete softball schedule, visit hawkeyesports.com.