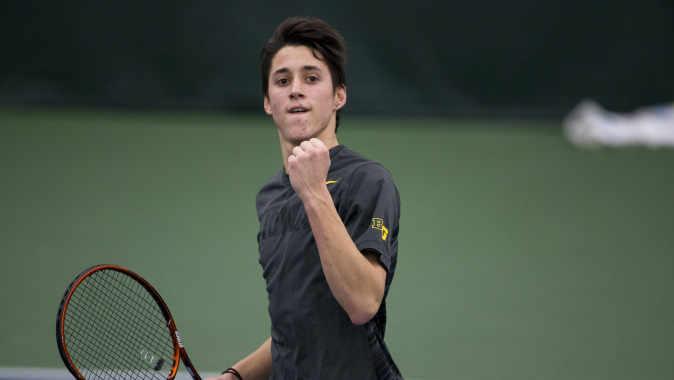 Oct. 3, 2015
TULSA, Okla. — Three University of Iowa men's tennis players won their first round matches Saturday at the 2015 Saint Francis Health System ITA Men's All-American Championships, held on the Michael D. Case Tennis Center at the University of Tulsa.
Lefteris Theodorou topped SMU's Arkadijs Slobodkins in straight sets, 6-3, 7-5 in his first match. The Hawkeye sophomore will face Alexander Cozbinov of UNLV on Sunday in the Round of 128.
Junior Robin Haden notched a 7-6(6), 6-2 triumph over UNLV's Ruben Alberts in the first round. The native of Danderyd, Sweden, will square off against Jan Cimrman of NJIT in tomorrow's Round of 128.
Also registering a victory for the Hawkeyes on Saturday was sophomore Jake Jacoby, who bounced Cal Poly's Corey Pang, 4-6, 7-6(4), 6-4. Jacoby will compete against Igor Smelyanski of Tennessee in the Round of 128 on Sunday.
Senior Dominic Patrick lost his first round match, 7-5, 6-2, to Lamar's Michael Feucht. He will face John Milstead of Oklahoma on Sunday in the consolation bracket.
Competition continues tomorrow at the Michael D. Case Tennis Center.