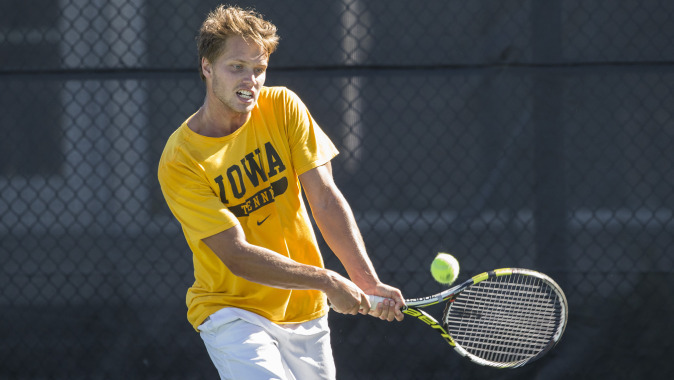 Oct. 4, 2015
TULSA, Okla. — Three University of Iowa men's tennis players competed Sunday in the second round of the 2015 Saint Francis Health System ITA Men's All-American Championships, held on the Michael D. Case Tennis Center at the University of Tulsa.
Junior Robin Haden added two more matches to his win column today in the Pre-Qualifying round. Haden defeated Jan Cimrman (NJIT) in straight sets, 6-0, 6-4, to start the day. In his second match, Haden dropped the first set before taking the second and third to beat Vasco Valverde of San Francisco, 1-6, 6-3, 6-3. Haden will face Cristobal Rivera of Loyola Marymount in the final round of the Pre-Qualifying bracket tomorrow at 8 a.m.
"I was really impressed with Robin today. He was aggressive with his feet, played close to the baseline, and used his forehand as a weapon," said UI head coach Ross Wilson.
Sophomores Lefteris Theodorou and Jake Jacoby dropped their second round matches today. Theodorou was outlasted in three sets, 6-0, 5-7, 6-3, against UNLV's Alexander Cozbinov, while Jacoby fell in straight sets, 7-6(3), 7-5, to Tennessee's Igor Smelyanski.
Senior Dominic Patrick won his match today, defeating John Milstead of Oklahoma in the consolation bracket in straight sets, 6-2, 6-1.
Competition continues tomorrow at the Michael D. Case Tennis Center.