Box Score
Oct. 10, 2015
Final Stats | Notes | USATI Gallery

| Photo Gallery

By JAMES ALLAN
hawkeyesports.com
IOWA CITY, Iowa — It was Jordan Canzeri or bust.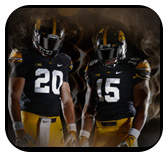 Canzeri carried the ball a school-record 43 times for 256 yards — the third-most yards in program history — to lead the 22nd/23rd-ranked University of Iowa football team to a 29-20 victory over Illinois on Saturday afternoon inside Kinnick Stadium.
"We saw something special," said UI head coach Kirk Ferentz of Canzeri. "It was a tremendous, gutty performance.
"He stepped up big, and he wanted to. I had no idea he had 43 carries, and he never looked to the bench. It was one of those shots where he was going to keep going. That's reflective of the attitude of our football team and Jordan represents those guys well."
Iowa, who is bowl eligible for the 14th time in 15 seasons under Ferentz, moves to 6-0 overall and 2-0 in Big Ten play heading into next week's road contest at No. 13/14 Northwestern.
"We're thrilled with the outcome of this game," said Ferentz."It was a hard-fought game, and we knew that coming in. I was pleased with the way our team show grit out there; they fought through the entire game."
After two third-quarter field goals closed the Fighting Illini deficit to within 16-13, Canzeri shifted the mood of the 66,693 fans in attendance single-handedly in just 11 seconds.
On first-and-10 from the Iowa 25, Canzeri took a handoff, followed a pulling Jordan Walsh, and out-ran the Illinois defense for a 75-yard touchdown run — the longest by a Hawkeye since 2008 (Shonn Greene) — to push Iowa's lead to 23-13 with 2:45 remaining in the third quarter.
1st
2nd
3rd
4th
Final
7
0
6
7
20
6
10
7
6
29
Stat Comparisons
First Downs
20
23
Rushing Attempts-Yards
24-46
51-278
Passing Yards
317
200
Passing (Comp.-Att.-Int.)
25-43-1
15-31-0
Total Offense
67-363
82-478
Punts-Avg.
6-42.2
6-43.3
Fumbles-Lost
1-1
0-0
Penalties-Yds
5-45
6-80
Time of Possession
24:09
35:51
3rd-Down Conversions
5-of-15
4-of-16
4th-Down Conversions
0-of-1
1-of-2
Illinois Statistical Leaders
Passing
Comp.
Att.
Yds.
TD
Wes Lunt
25
42
317
1
Rushing
Carries
Yds.
Avg.
TD
Ke'Shawn Vaughn
19
67
3.5
1
Receiving
Rec.
Yds.
Avg.
TD
Geranimo Allison
8
148
18.5
1
Defense
Solo-Assists
TOTAL
Sacks
INT.
T.J. Neal, Jr.
7-7
14
0
0
"C.J. made a great check… he's so football smart, he knew what play to get us in," said Canzeri. "We blocked it amazing and our receivers blocked great. Coach (Chris) White teaches us to keep our eyes to the end zone… that's what I did."
Illinois struck back early in the fourth quarter with an 85-yard scoring drive, spanning just two minutes. A pass interference penalty jump-started the series and a Wes Lunt-to-Geronimo Allison 53-yard touchdown pass made the score 23-20 with 10:13 remaining.
Iowa turned to the 5-foot-9, 192-pound workhorse in the backfield.
The Hawkeyes handed the ball to No. 33 12-straight times for 8, 13, 4, 7, 5, 4, 1, 1, 11, 4, and 1 yard down to the Illinois 11. On third-and-5, junior C.J. Beathard'sattempt bounced off freshman Jerminic Smith's hands on a quick slant, but senior Marshall Koehn made a 34-yard field goal to give the Hawkeyes a 26-20 lead with 6:53 to play.
After a touchback, Iowa's defense came up with a game-clinching turnover.
On first-and-10 from its own 25, the Fighting Illini handed off to Ke'Shawn Vaughn, where he was stripped by redshirt freshman Parker Hesse, forcing a fumble. Sophomore Josey Jewell recovered, giving Iowa possession at its own 29.
"Josey stayed active out there and played well," said Ferentz. "Our entire defense, for the most part, played tough, and the takeaways were a big part of the game as well."
Iowa handed off twice to Canzeri to tie Sedrick Shaw's rushing attempts record and a third-and-6 carry broke the all-time mark. Koehn connected on a 40-yard field goal with 2:11 remaining to push Iowa's lead to 29-20 to seal the victory.
The Hawkeyes had a 478-363 advantage in total offense, including a season-high 278 yards on the ground. Iowa's rushing prowess led to an 11-minute advantage in time of possession, and the Hawkeyes ran 15 more offensive plays.
Beathard completed 15-of-31 passes for 200 yards with two touchdowns. Smith made four catches for 118 yards, while senior tight end Henry Krieger Coble had five catches for 32 yards.
Defensively, Iowa bent in the second half, allowing 242 yards in the second half against Illinois' no-huddle attack. The Hawkeyes forced a pair of fourth-quarter turnovers, and made Illinois one-dimensional, holding the Fighting Illini to 46 yards rushing and finishing with three sacks.
Jewell paced the team with 12 tackles, a pass breakup, and the fumble recovery. Senior Jordan Lomax and Jaleel Johnson notched six tackles apiece, and Johnson has a sack.
Lunt completed 25-of-42 attempts for 317 yards with one touchdown and one interception. Allison had eight catches for 148 yards and a score.
Iowa piled up nearly 300 yards of offense in the opening half, but missed chances after twice being denied touchdowns after moving the ball inside the Illinois' 3-yard line.
The Hawkeyes scored the game's first points on their second possession, courtesy of a seven play, 69-yard drive. An Illinois personal foul jump-started the series before Beathard connected with Smith for a 14-yard pass — the first catch of Smith's career — to the Illinois 32. Iowa scored off play-action on a 21-yard touchdown strike to George Kittle — his third straight game with a score. The lead was 6-0 after Koehn missed the PAT.
Illinois grabbed the lead on the next series, taking advantage of two big plays. On third-and-8, Malik Turner made a one-handed grab on the Iowa sideline for a 34-yard gain. On the next play, Lunt connected with Allison on a pitch-and-catch for 27 yards on a flea flicker to the 4. Ke'Shawn Vaughn scored a rushing touchdown two plays later, giving the Fighting Illini a 7-6 lead with 6:29 left in the first quarter. It was the first rushing touchdown allowed by the Iowa defense this season.
Iowa drove deep into Illinois territory on a drive spanning the first and second quarters, but came up empty. The Hawkeyes converted a third-and-27 on a 46-yard leaping catch by Smith into the red zone and converted a fourth-and-1 on a Beathard sneak.
The Hawkeye defense kept the field position in Iowa's favor with a four-play, 18-yard drive, and the offense followed with a 58-yard, go-head touchdown drive.
On third-and-13, Beathard avoided pressure and rolled to his right before heaving a 49-yard completion to Smith to the Illinois 12. On second-and-17, Beathard found Canzeri on a screen pass where he weaved his way through the Illinois defense for the touchdown, giving Iowa a 13-7 lead with 7:50 to go in the first half.
The Hawkeyes extended their lead to 16-6 with a 13-play, 74-yard scoring drive to end the half. The big play came from Canzeri, who sprung a second-and-1 for 32 yards to the Illinois 12 before being knocked out of bounds.
After running six plays inside the 12, including four inside the 4, Beathard had Smith wide open in the end zone on third-and-goal, but the fastball was thrown behind his freshman wide receiver. Koehn pushed the lead to 10 points with a 19-yard field goal with 15 seconds left in the half.
The Hawkeyes return to action Oct. 17 in Evanston, facing Northwestern at 11 a.m. at Ryan Field.