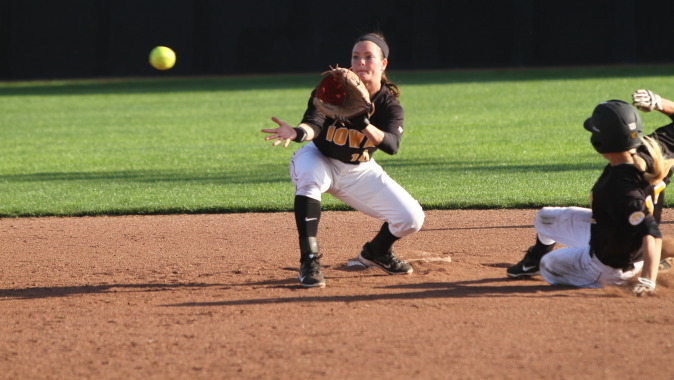 Oct. 12, 2015
Editor's Note: The following first appeared in the University of Iowa's Hawk Talk Daily, an e-newsletter that offers a daily look at the Iowa Hawkeyes, delivered free each morning to thousands of fans of the Hawkeyes worldwide. To receive daily news from the Iowa Hawkeyes, sign up HERE.
By BRANDEE BRITT
IOWA CITY, Iowa — With its fall season in the books, the University of Iowa softball team looks ahead to its 2016 regular season with one phrase in mind — make it happen.
"It's time to stop talking about what we want to do and actually make it happen," said UI head coach Marla Looper. "I'm looking forward to this offseason and the opportunity to break some things down. We are in a good spot right now."
Looper's squad features five newcomers — junior transfer Elizabeth Wiegand (Tennessee-Martin), sophomore transfer Katy Taylor (Labette CC), and freshmen Erin Riding, Brooke Rozier, and Mallory Kilian — and 17 returners.
"The five newbies have been a great fit," said Looper. "Their energy, vibe, and personalities blend really well. Our returners have done a good job of making sure the newcomers are included. Because of that, the transition on the field and the teamwork came a lot more quickly than it has in the past."
Three of the team's five newcomers saw action in the circle this fall. Wiegand, Riding, and Kilian each notched innings alongside redshirt junior Shayla Starkenburg and senior Jillian Navarrete. While there are still improvements to be made, Looper is proud of the progress she has seen this fall.
"Overall they did well this fall," said Looper. "They've been great in the bullpen. They are absorbing things, and they are all open-minded. Every single pitcher we have is different.
"They feed off of each other, respect each other, but also compete against each other. They all want the ball. As a coach, that's exactly what you want out of your pitchers. I'm very confident in where we are at in the circle."
Pitching depth isn't the only new aspect of this year's team. Assistant coach Jake Schumann joined the staff in early August, and Looper can already see the impact he is having on the Iowa offense.
"It's more of a change in mindset," said Looper. "It's about a quality at-bat, and getting them to buy in to the team. It's not about the individual, it's about how the team is going to put runs up on the board and win. The team is really starting to embody that."
The Hawkeyes begin the 2016 season with five tournaments on the road, beginning with the Texas A&M Corpus Christi Tournament on Feb. 12-14. The squad opens Big Ten play in Bloomington, Indiana, for a three-game series against the Hoosiers on March 25-27, before opening its home slate against Drake on March 30.
"We are going to continue to build so when we start in February we are already months ahead of where we were last year," Looper said. "That's how you get deeper into the season and get into postseason. If we continue to build, our future could be bright. We have to get out there and get the job done."