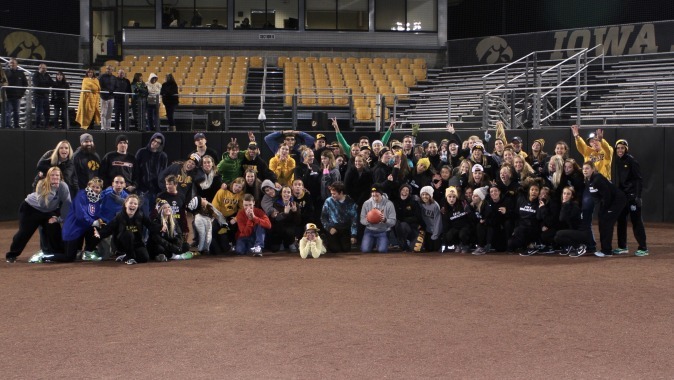 Oct. 23, 2015

Photo Gallery
Editor's Note: The following first appeared in the University of Iowa's Hawk Talk Daily, an e-newsletter that offers a daily look at the Iowa Hawkeyes, delivered free each morning to thousands of fans of the Hawkeyes worldwide. To receive daily news from the Iowa Hawkeyes, sign up HERE.
By BRANDEE BRITT
IOWA CITY, Iowa — While the University of Iowa softball team's 2016 season is more than four months away, Bob Pearl Field was alive and kicking last Friday night for the third-annual UI REACH Kickball Game.
UI REACH, an acronym for "Realizing Educational and Career Hopes," is a two-year, transition certificate program for students with multiple intellectual, cognitive, and learning disabilities.
"The program gives students the opportunity to have a real college experience," said UI sophomore Sarah Kurtz. "They stay on campus for two years and take classes with other university students. They learn a lot of real-life skills before going out into the real world."
Four Hawkeyes — Kurtz, sophomores Daniela Chambers and Allie Wood, and senior Erin Erickson — volunteer with UI REACH throughout the school year.
"Thursdays are my community service day," said Erickson. "It doesn't feel like community service though, because I get to play dodgeball with around 15-20 students. It's one of the highlights of my week. Most of the people who come to play are really into it and looking to win. It's not a laid back community service time at all."
Kurtz and Erickson took charge of planning this year's kickball game. The duo coordinated the event along with Adam Miller, an Educational Support Services Assistant with the College of Education. The team also invited the women's gymnastics team to join in the fun.
"Our teams have become very close over the last couple of years, so it's exciting for us to join forces to work for the community," said UI women's gymnastics head coach Larissa Libby. "It was great to give all these people the opportunity to get to know our kids off the field.
"We are so grateful to softball for letting us jump in on their moment and spend some time with UI REACH."
Kurtz agrees.
"It was cool to see that our relationship with gymnastics can translate into helping another university-based program," said Kurtz. "It was nice to have more people there. They brought more energy and spunk. They helped make it a fun night to be part of."
For Kurtz, seeing the students she spends time with every week smiling and laughing on her home field was unforgettable.
"Friday also turned out to be their parents night," said Kurtz. "For me, it was awesome to see their parents get so much joy out of watching their children have so much fun in a cool atmosphere. That was rewarding."
Although this year's event was a huge success, Erickson can't wait to see it continue to grow.
"These kids look up to student-athletes so much," said Erickson. "We aren't even human to them. It's special to them that we dedicate the time to do this. I'd love to see more student-athletes get involved. This year was great, but I think it will only get better."