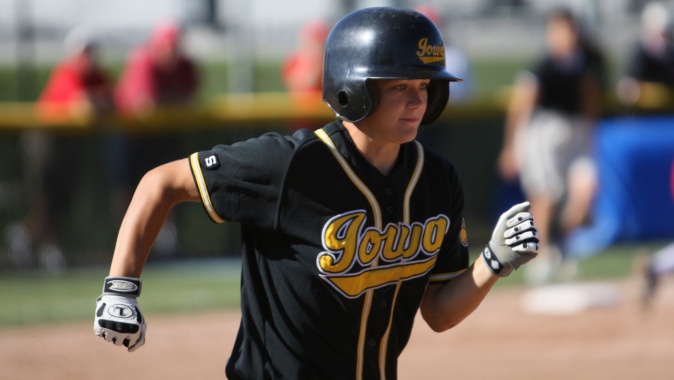 Oct. 28, 2015
Editor's Note: The following first appeared in the University of Iowa's Hawk Talk Daily, an e-newsletter that offers a daily look at the Iowa Hawkeyes, delivered free each morning to thousands of fans of the Hawkeyes worldwide. To receive daily news from the Iowa Hawkeyes, sign up HERE.
By JACK ROSSI
IOWA CITY, Iowa — Former University of Iowa softball standout Rachel West is making the move from high school sports to Division I softball. West is returning to her alma mater as its volunteer assistant coach.
The Burlington, Iowa, native still stands as one of the best base stealers in program history, swiping 86 during her Hawkeye career from 2005-09 — a figure that ranks fourth in the record books. Following graduation, West gained coaching experience, assisting various teams in the area.
"When I finished playing I went to graduate school," West said. "I also coached in the area for four years, coaching track and field at Iowa City West High School and softball at Solon."
West's former teammate — Chelsey Carmody — served as volunteer assistant for the team the past three seasons. When Carmody moved on to another position, West saw an opportunity.
"When Chelsey got a job in St. Louis, I knew there was an opening on the staff," said West. "I developed and expanded my relationship with the coaching staff."
West graduated the spring before UI head coach Marla Looper took over the Iowa softball program. She corresponded with the Hawkeye staff during alumni events, and when the position opened, Looper thought West would be a great fit for the program.
"Her personality fits well with our staff, it's a good balance," Looper said. "It's always a challenge to fit somebody in who might not have been around for a while. You want to know if they going to fit your program and uphold the same values."
The most important thing for Looper is for West to follow the program's five pillar standards of discipline, integrity, respect, loyalty, and teamwork.
"She has a great character and ability," Looper said. "She has experience coaching and has done private instruction. That knowledge can be helpful with our program."
Through the fall season, West has been another set of hands and eyes during instruction, and the transition has been seamless.
"She's a team player," Looper said. "She's finding her way around. She has been focusing on working with the outfielders and warming the team up prior to practice to have their bodies ready when the game begins. That is useful with her fitness background."
West has grateful for the opportunity, and is learning the intricacies of coaching at the Division I level on day-to-day basis.
"I love it, it has been fun and a great opportunity for me," West said. "I don't know if I want to coach (long term), but I am taking the opportunities as they come and we'll see where it takes me."
The Hawkeyes open the 2016 season with six straight weekends on the road, beginning with the Texas A&M Corpus Christi Tournament from Feb. 12-14. Iowa's home opener at Pearl Field is scheduled for March 30 against Drake.