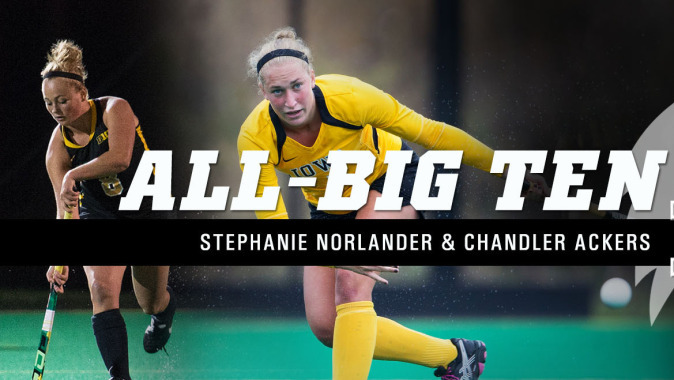 Nov. 4, 2015
IOWA CITY, Iowa — Two University of Iowa field hockey student-athletes — Stephanie Norlander and Chandler Ackers — have earned All-Big Ten honors, the conference announced Wednesday. Norlander was named the Big Ten Offensive Player of the Year and a first-team All-Big Ten honoree, while Ackers garnered second team honors. Junior Sophie Plasteras is Iowa's Sportsmanship Award honoree.
Norlander, a junior from North Vancouver, Canada, is the second Hawkeye in as many years to be named Big Ten Offensive Player of the Year. Natalie Cafone, who is redshirting this year due to injury, earned the distinction last season.
"Being named the Offensive Player of the Year is an outstanding accomplishment," said UI head coach Lisa Cellucci. "I am thrilled for Steph. She has made big strides in her game every year and is a real leader on the field for us this season. Every team we played had a strategy for her and attempted to take her out of the game. Even with that target on her back she found a way to make things happen on the offensive side of the ball.
"It's no secret our results this year were not up to the standards of our program and I am glad that did not take away from the presence Steph had on the field. She joins an elite group of Iowa players who have been honored with this award and I couldn't be more proud."
A two-time first team All-Big Ten honoree, Norlander paced the Hawkeyes offensively in 2015. Her conference leading 16 goals this season are a single-season career high and rank sixth in the country. The three-year starter has scored two or more goals five times this season, including her second career hat-trick against Saint Louis on Sept. 13. Norlander has also recorded four assists this year, giving her 36 total points — the ninth most in the country.
Ackers, a junior from White Haven, Pennsylvania, earns the first conference honor of her career. An Academic All-Big Ten honoree in 2014, Ackers has started in every game (36) for the Hawkeyes since her sophomore year. Her eight goals this season are a career high and are second most on the team behind Norlander. The defender has six assists on the year, marking the second consecutive year she has recorded six or more in a season. Ackers has notched a pair of two-goal games in Iowa's wins over Saint Louis and Central Michigan.
The Hawkeyes begin postseason play this week at the 2015 Big Ten Tournament. Seventh-seeded Iowa (9-9, 2-6) will face No. 2-seeded and 10th-ranked Michigan (15-3, 7-1) in the opening round on Thursday, Nov. 5, at 2 p.m. (CT). The game will be shown live on BTN.