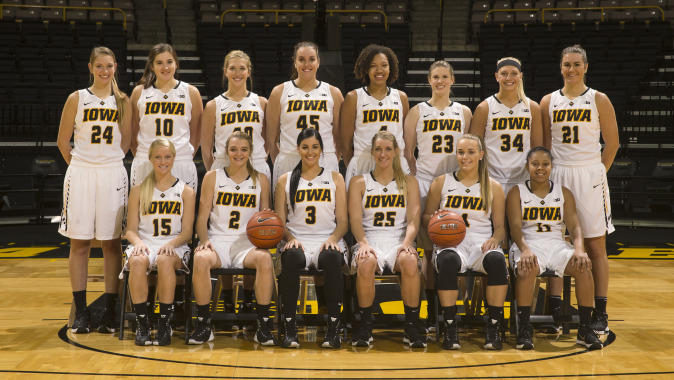 Nov. 6, 2015
GameNotesUpperIowa

THE SETTING
The University of Iowa women's basketball team hosts Upper Iowa in exhibition action on Sunday at 2 p.m. (CT) on Mediacom Court inside Carver-Hawkeye Arena. Tickets are $5 for adults and free for youth (18 and under) and UI students. Free posters, schedule cards, and key tags will be available while supplies last.
Exhibition | Iowa vs Upper Iowa
Date:
Sunday, Nov. 8 | 2 p.m. (CT)
Location:
Iowa City, Iowa | Carver-Hawkeye Arena
TV:
BTN Plus (BTN2GO)
Radio:
Hawkeye All-Access
Live Coverage:
GameTracker | Twitter Game Updates
All-Time Series:
Iowa leads, 2-0
SEASON TICKETS
Season tickets are on sale for the 2015-16 Iowa women's basketball season. General public season tickets are $100. UI faculty/staff can purchase tickets for $80. Senior tickets (50 and older) are also $80, while youth season tickets (18 or younger) are $25. UI students are admitted free to women's basketball games.
Tickets are available by visiting the ticket office at Carver-Hawkeye Arena, calling 1-800-IA-HAWKS, or online at hawkeyesports.com.
AUDIO COVERAGE
Brent Balbinot, Todd Werner, and Kathryn Reynolds will call Sunday's game on Hawkeye All-Access. A link to the broadcast is available on the women's basketball schedule page at hawkeyesports.com. Balbinot is in his 12th season as Iowa's play-by-play voice, while Werner and Reynolds are in their first providing analysis. Reynolds, a member of the infamous Core Four and team captain for the Hawkeyes in 2014-15, is pursuing a law degree at the University of Iowa.
SCOUTING UPPER IOWA
Upper Iowa played to a 7-20 record overall and a 5-17 mark in Northern Sun Intercollegiate Conference play in 2014-15. The Peacocks, led by sixth-year head coach Carol Russell, were picked to finish 14th overall and seventh in the south division in NSIC's women's basketball preseason coaches' poll.
Whitney Kieffer was one of 16 named to the NSIC's preseason players to watch list. The guard returns to the court as a redshirt senior, after missing the 2014-15 season with an injury. The Scales Mound, Illinois, native was awarded All-NSIC second team, NSIC defensive team, and team most valuable honors as a junior in 2013-14. Kieffer, the 11th 1000 career point scorer in program history, headlines the Peacock roster comprised of six freshmen, four sophomores, two juniors, and two seniors.
FAMILY TIES
Iowa freshman Megan Gustafson will see a familiar face on the Peacock bench. Her older sister, Emily Gustafson, is a team manager this season. Emily redshirted with an injury in 2014-15, but earned Upper Iowa's newcomer of the year award in 2013-14 after playing in 27 games and posting the highest shooting percentage on the team (.559).
HOME SWEET HOME
Iowa was one of 13 teams nationally to finish undefeated at home with an 18-0 mark last season, a program record for wins at home in a single season. The Hawkeyes look to extend their 18-game win streak on Mediacom Court inside Carver-Hawkeye Arena this year. The 2015-16 schedule includes 15 home contests, nine against Big Ten Conference opponents.
WATCH THE HAWKEYES
Twenty of Iowa's contests can be seen on BTN, BTN Plus, or ESPN2 this season. Nineteen games will appear on BTN or digitally on BTN Plus, and while Iowa's regular season contest against Maryland in Iowa City on Jan. 10 will be televised by ESPN2.
HAWKEYES 23RD IN RANKINGS
Iowa is ranked No. 23 in the USA Today Preseason Coaches Poll and receiving 17 votes in the Preseason Associated Press Top 25. The Hawkeyes, who appeared in the rankings each week in 2014-15, finished the season ranked 11th in the USA Today Coaches Poll and 18th in the AP Top 25.
Four Big Ten teams are included in the USA Today's Top 25, including Maryland (No. 6), Ohio State (No. 10), Iowa (No. 23), and Northwestern (No. 24). Michigan State (79), Rutgers (44), and Nebraska (9) are receiving votes. The Big Ten also has four representatives in the AP Top 25 Poll in No. 6 Ohio State, No. 9 Maryland, No. 19 Northwestern, and No. 24 Michigan State. Rutgers (34) and Iowa (17) are receiving votes.
NCAA STREAK ATOP THE BIG TEN
Iowa is the only Big Ten team, and one of only 10 teams in the country, to appear in the last eight NCAA Tournaments. There are 349 Division I teams.
The Hawkeyes advanced to the program's first Sweet Sixteen since 1996, and the sixth overall, a season ago. It was the first Sweet Sixteen appearance for Iowa under head coach Lisa Bluder. Iowa, a No. 3 seed in the 2015 NCAA Tournament, defeated 14th-seeded American in the First Round, 75-67, and 11th-seeded Miami in the Second Round, 88-77, inside Carver-Hawkeye Arena to advance.
A YEAR TO REMEMBER
The University of Iowa women's basketball team closed the 2014-15 season with a 26-8 record overall, a runner-up finish in Big Ten Conference play with a 14-4 mark, and a No. 11 national ranking in the USA Today Top 25 Coaches' Poll — the highest for the program since 1995-96 (No. 7 in AP, No. 9 in USA Today). The UI was one of 13 teams nationally to finish undefeated at home with an 18-0 mark, setting a program record for wins at home in a single season.
The Hawkeyes became one of 10 teams nationally to appear in the last eight NCAA Tournaments, and advanced to the program's first Sweet Sixteen since 1996, and the sixth overall. It was the first Sweet Sixteen appearance in head coach Lisa Bluder's tenure.
LEADING THE WAY
? Senior forward Kali Peschel and junior guard Ally Disterhoft were elected team captains by the players and Hawkeye coaching staff.
? Peschel provided a spark for Iowa off the bench as a junior. She had the second-highest 3-point field goal percentage on the team last year. The Sauk Centre, Minnesota, native shot 43.4% from long range, which is the eighth-best in percentage in program history.
? Disterhoft, a two-year starter for the Hawkeyes, led the team in points and points per game in 2014-15. She enters the season with 977 career points, good for 34th in program history. The Iowa City, Iowa native, has played every game of her collegiate career with 51 starts.
DISTERHOFT EARNS PRESEASON HONOR
Junior guard Ally Disterhoft was named a preseason All-Big Ten honoree by league coaches. The two-year starter and team-elected co-captain, was a second team All-Big Ten selection in 2015, and an honorable mention All-Big Ten honoree, Big Ten All-Freshman Team member, and Big Ten All-Tournament Team selection in 2014.
The Iowa City, Iowa, native enters the season 34th all-time in scoring at Iowa with 977 career points. Disterhoft — the only sophomore to be named a CoSIDA Capital One Academic All-American in 2014-15 — led the Hawkeyes in points (503) and points per game (14.8) last season. She has played in all 70 games of her collegiate career and scored in double digits in 45-of-51 starts.
TOP OF THEIR CLASS
? The freshman class, comprised of Tania Davis, Megan Gustafson, Tagyn Larson, and Hannah Stewart, earned a No. 17 national ranking by ESPN HoopGurlz. All were rated in the top 100 individually.
? Davis, a Michigan Miss Basketball honoree, was the 36th-best prospect nationally and the 12th-rated point guard in her class. The 5-4 freshman is expected to share point guard responsibilities this season.
? Gustafson, a 6-3 forward/center, is ranked 12th nationally at her position. She is the all-time leading scorer, male or female, in Wisconsin high school history.
? Larson is the 15th-rated wing nationally in the 2015 class. The 6-2 forward was a four-time all-state, all-city, and all-conference selection at Roosevelt High School.
? Stewart, a North Dakota Miss Basketball selection, is the 15th-ranked forward in the 2015 class. She is a four-time all-state, all-region, and all-district honoree, and a three-time state tournament MVP.
BUTTENHAM REPRESENTS CANADA
Sophomore forward Christina Buttenham was one of 12 named to the Canadian Junior Women's National Team for the second consecutive year in 2015. The Hamilton, Ontario, Canada, native was unable to compete with the team, which finished eighth in the competition held in Chekhov, Russia, due to injury. Buttenham was one of just 12 women's basketball players in the Big Ten selected to represent the conference in international competition.
ACADEMIC PROWESS
? Iowa was the only program to have two Capital One Academic All-Americans, Ally Disterhoft and Samantha Logic, in 2014-15. There were 15 total honorees.
? Disterhoft was the only sophomore in the country to earn Capital One Academic All-American honors.
? Seven Hawkeyes, Disterhoft, Bethany Doolittle, Alexa Kastanek, Samantha Logic, Kali Peschel, Kathryn Reynolds, and Hailey Schneden, earned Academic All-Big Ten recognition following the 2014-15 season.
? To be eligible for Academic All-Big Ten, student-athletes must be letterwinners and be in at least their second academic year at the institution. They must also carry a cumulative grade point average of 3.0 or better.
#REDWHITENBLUDER
Sixteenth-year UI head coach Lisa Bluder took her talents to the international stage as head coach of the U.S. Pan American Women's Basketball Team in 2015. She guided the Red, White, and Blue to four consecutive wins in four days to reach the gold medal contest, where Team USA ultimately fell to the Pan American Games host in Canada in day five of competition. It marked the 14th medal all-time (seven gold, five silver, two bronze) for the U.S. and the second for Bluder, who earned a gold medal with the team as an assistant coach at the World University Games in 2001.
HAWKEYES IN BIG TEN PLAY
Iowa head coach Lisa Bluder is a three-time Big Ten Coach of the Year (2001, 2008 and 2010). She has guided Iowa to 11 upper-division finishes in the Big Ten in 15 seasons. Iowa won a share of the Big Ten regular season championship in 2008 and finished in a three-way tie for second in 2009. The Hawkeyes clinched a share of the title in 2008 with a win at Wisconsin in the regular season finale (March 2, 2008).
Since the 2008 season, Iowa has finished first once, second three times, third twice, fourth once, and seventh once. Iowa finished second in the inaugural 14-team league in 2015.
TOP 15 IN ATTENDANCE
In 2014-15, the University of Iowa ranked 11th in total attendance nationally after drawing 95,417 fans to Carver-Hawkeye Arena. With an average of 5,301 fans per game, the Hawkeyes were 14th in national attendance among Division I teams. It is the sixth-straight season Iowa has ranked inside the top 25 in attendance.
The Hawkeyes were 15th in average attendance (5,213) and 13th in total attendance (83,406) in 2013-14, 22nd in attendance (4,395) in 2012-13, 19th in both 2011-12 and 2010-11, and 13th in 2009-10.
IOWAWBB.COM
Check out the Iowa women's basketball team's website, iowawbb.com, devoted to everything on-and-off-the-court surrounding the program. Iowawbb.com, allows fans a chance to go behind the scenes with the Hawkeye basketball program. The site is complete with exclusive videos, photo galleries, and content featuring the basketball program.
UP NEXT
Iowa hosts the annual Hawkeye Challenge inside Carver-Hawkeye Arena, Nov. 13-15. The Hawkeyes open their season with a 6 p.m. game against North Dakota on Friday, Nov. 13 and conclude tournament action with a 1 p.m. game against UT Martin on Sunday, Nov. 15. A neutral contest between North Dakota and UT Martin will be played at 3:30 p.m. on Saturday, Nov. 14.
Friday and Sunday are doubleheaders with men's basketball games played after the completion of the women's contests.